China has the potential to be top market for electric vehicles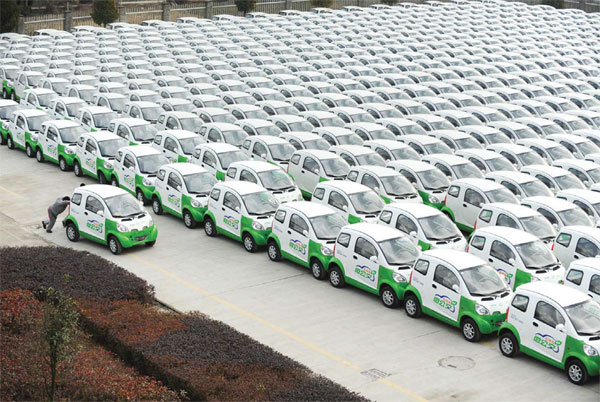 Electric cars at a factory parking lot in Changxing, Zhejiang province. In the first seven months of this year about 90,000 new energy vehicles were sold in China. Liang Zhen / For China Daily
When China celebrated the 70th anniversary of the end of World War II on Sept 3, pictures of a spectacular pageant that included aircraft sweeping over Beijing were seen worldwide.
The skies that were the backdrop for this cavalcade and aerial show were a brilliant, clear blue, just as they had been 10 months earlier when world leaders gathered in the Chinese capital for the Asia-Pacific Economic Cooperation forum. In fact, local wags were so impressed by the celestial splendor their government had conjured up that they dubbed the phenomena "APEC blue" and "anti-fascist blue".
The country had proven once again that when it wants to achieve something it can and it does. That resolve is at the heart of an ambitious plan to bring clear, blue skies and clean, fresh air to cities nationwide on a more permanent basis in the years to come. One way of helping deliver them: electric cars.
The goal, to have 5 million electric vehicles on the nation's roads by 2020, thus making China a pacesetter in the field, is a tall order, but measures now being unfolded make it clear that the government means business. Such success will not only help rid big cities of smog, but also put the country on track to honor a pledge it made a year ago to reduce its carbon dioxide emissions per unit of GDP by 60 percent to 65 percent of the 2005 level by 2030.
About three weeks after the Beijing parade, the State Council, China's cabinet, issued a set of directives to speed up the adoption of what in China are called new energy vehicles. They include cars that are all-electric or battery electric as well as plug-in hybrids.
An executive meeting of the council called for more financial incentives to anyone using or considering buying new energy vehicles, for more research and development of those that use batteries and fuel cells, and for local governments to promote the purchase of new energy vehicles, including rescinding any measures deterring people from buying them.
On Oct 22, in another signal about how seriously the government takes the issue, Premier Li Keqiang called for greater efforts in upgrading the motor vehicle industry and said development of a fuel-efficient new energy vehicle industry will improve people's lives and inject dynamism to the economy.
Six years ago China surpassed Japan as the world's biggest carmaker. A year later it became the world's biggest car market, and the country's new energy car market now seems to be on the cusp of pulling off a similar feat. In the first seven months of this year about 90,000 new energy vehicles were sold in China, compared with about 63,000 in the US, the China Association of Auto Manufacturers says.
"China has the potential to be the world's largest electric car market," says Dong Yang, vice-chairman and secretary-general of the China Association of Auto Manufacturers. The country's new energy vehicle market is moving from a "primary stage" to a "fast-growing stage", he says.
Given that more than 23 million petrol-driven vehicles were sold in China last year, those numbers may seem minuscule, but the rise in sales appears to be gathering pace. Last year 74,800 vehicles were sold, triple the number the year before - as was the number of cars produced. Sales in the first seven months of this year rose 260 percent on the corresponding period last year.
All well and good, but in a groundbreaking field in which there are no set rules of the road to consult, making the motoring revolution of the early 21st century a reality is proving to be a huge challenge. That is evident in a target that the State Council set three years ago to have 500,000 new energy vehicles on the road by the end of this year, a goal that has proven to be way too ambitious.
One of the cities leading the charge in this campaign is Beijing. But as is the case with China's other big cities in this quest, it is encumbered by the need to balance conflicting interests - those of the public at large, of motorists and of companies eager to turn this revolution into a money-spinner.
If that is not enough for the municipality to grapple with as it coaxes people to buy electric vehicles, it must also keep a tight rein on the numbers. If it does not, all it will produce is more choke points on the capital's already choking roads.
On this matter the rise in the numbers of cars of the nation's roads over the past 20 years are eloquent. Last November the Traffic Control Bureau of the Ministry of Public Security said the country had 154 million privately-owned motor vehicles, double the number just five years earlier, and 10 times the number in 2000. Though thousands of kilometers of roads have been added to the national road network in that time, the growth in the number of motor vehicles has far outstripped their ability to cope.
In October 2008, Beijing took decisive action by bringing in a system under which on one workday a week, between 7 am and 8 pm, cars whose license plates end with a particular digit are barred from using the roads.
Then, in January 2011, it introduced a system of bimonthly lotteries for those wanting to buy a new car, a measure that Chengdu, Guangzhou, Shanghai and Tianjin have also adopted. In the first ballot in Beijing, 190,000 or so motorists put their names forward for about 17,500 license plates, giving them about a 1 in 10 chance of success. Predictably, the numbers of those throwing their names into the hat have ballooned, and in August more than 3 million hopefuls vied for just 20,000 license plates, giving them about 1 in 150 chance of success.
With the diminishing odds of winning, desperate applicants are now turning to the separate lottery for new energy car license plates, whose odds are a lot kinder. In August, 8,737 people entered a ballot for 3,333 license plates, giving them a better than 1 in 3 chance of success. However, as the queues for these license plates lengthen, so do the odds of winning.
In April, Beijing, in an attempt to make new energy vehicles more attractive, exempted pure electric cars from the day-of-use rationing system, meaning they can be driven no matter when. The research company Nielsen and the China Association of Auto Manufacturers said in a report in August that the more generous application of license plate rules for those driving new energy vehicles would favorably influence the decision of 16 percent of 700 respondents on whether to buy a new energy car.
However, despite all the best efforts by authorities to make the vehicles attractive, would-be buyers continue to be deterred by their cost, the frequent need to recharge them and the lack of charging stations.
"For example, you cannot drive an all-electric vehicle from Beijing to Shanghai and rely on charging along the way," Jochem Heizmann, a member of Volkswagen's group board of management with responsibility for China, wrote in an essay in May.
"This is because the infrastructure has not been completed yet - and even once it is, the standard may not be universal. To this end, we need dependable, stable technologies. This way, in the future we can channel our development investments in the right direction and contribute toward advancing plug-in hybrid technologies."
In early October, the State Council issued a directive that calls for the installation of electric charging stations to be sped up. Local governments have been taking measures to set up networks of stations, perhaps none more radical than Beijing, which plans to have dozens of stations installed around the city over the next eight months and has decreed that at least 18 percent of parking spaces allocated to new buildings must be equipped for charging posts.
Still, for many of those who have taken the plunge and bought a new energy vehicle, the pace of installing this infrastructure needs to be stepped up, partly because of the growing numbers of new energy vehicles on the road.
"At the moment, charging is the big problem," says Liu Chunshan, 40, of Beijing, who drives a Denza pure electric car.
"Six months ago, it was OK, but now anywhere you go for a recharge you need to line up."
Not only is the number of stations not keeping pace with the number of cars, but their overuse means many are out of order and it takes a long time for them to be repaired.
Li Yanping, 43, an Uber driver in Beijing, who has rented a BYD E6 pure electric car for his work since June, says: "With an e-car, even if there are only one or two cars in front of you, you could be waiting up to six hours."
It can then take between 90 minutes and three hours to charge the car, depending on the voltage of the post, he says.
These drivers are not only having their patience tested but also their pockets stretched, too, by pricing rules that aim to make owning and running such infrastructure an attractive proposition for investors. Since those policies were introduced in June, prices for charging vehicles have risen and the economic attraction of owning the cars has lost some of its gloss.
In Beijing, the upper limit for electricity charges per kilowatt-hour is 15 percent of that day's maximum retail price per liter of No 92 petrol in Beijing.
"The price is unreasonable," says Liu, who has to pay 90 yuan ($14; 13 euros)to fully charge his car, compared with about 40 yuan before. A full charge usually takes him 300 kilometers, he says.
Li, the Uber driver, says it costs him about 150 yuan for a charge that will last for 320 kilometers, about double what it used to cost.
"In fact now there is little difference in the cost of running petrol and electric cars," Li says.
Against that, last year the State Council announced that it would make buying new energy vehicles more attractive by exempting them from sales taxes levied on motor vehicles. That comes on top of rebates ranging between 31,500 yuan and 54,000 yuan for pure electric cars, depending on how far they can travel on a single charge, and 31,500 yuan for a plug-in hybrid.
In addition to incentives that the central government offers, local governments are also doling out attractive rebates to would-be owners.
The Shanghai government subsidy for a pure electric car is 40,000 yuan, for a plug-in hybrid 30,000 yuan and for fuel cell cars 200,000 yuan.
So anyone buying a plug-in hybrid retailing for about 200,000 yuan would receive a central government subsidy of about 30,000 yuan, a Shanghai government subsidy of 30,000 and be exempt from sales tax of 12,000 yuan, thus having to pay just 128,000 yuan for the car, a savings of 36 percent. Buyers of new energy vehicles in Shanghai are also exempt from paying the hefty vehicle license plate fee of about 80,000 yuan.
As in the case of Shanghai, Beijing's subsidies roughly match those of the central government.
Jia Xinguang, an analyst with the China Automobile Dealers Association, says that while the issues of poor charging infrastructure and expensive batteries are problematic, he sees a place on the roads of China for this new breed of vehicles in all their assortments.
Pure electric cars are perfect as two-seaters because the battery is big and heavy; fuel cell cars are great in a medium size, which is the most popular vehicle models in the country; and plug-in hybrids work well as big cars.
The country should also make use of its huge amount of waste straw and biogas to develop fuel cell cars, he says.
"China needs to open its mind and explore more green ways of getting about."
One of the many Chinese biding their time before taking the new energy vehicle plunge is Zheng Zheng, 42, of Beijing, who professes to be an e-car lover.
"With these cars it's a bit like mobile phones 15 or so years ago," he says. "The phones were big and heavy, and the batteries didn't last long and took ages to recharge. The phones and the calls were also incredibly expensive."
Zheng says he has avidly followed news about new energy vehicles for more than a year and will eventually buy one "once the cars and infrastructure have gotten a little better".
In its drive for cleaner air, the government is also toughening rules on fuel standards. In late August, the National People's Congress amended the Air Pollution Control Law, stipulating among other things that quality standards should comply with the country's restrictions on major pollutants.
Although China's petrol has roughly the same standard as that in Europe in terms of sulfur content, the permitted content of olefin, arenes and benzene in diesel is far higher, Xinhua News Agency reported.
Emissions standards are also being tightened, and there are plans to implement the National V standard in the automotive industry by the end of 2017, requiring sulphur content in fuel to be less than 10 parts per million.
Hao Yan contribute to the story.
duxiaoying1@chinadaily.com.cn