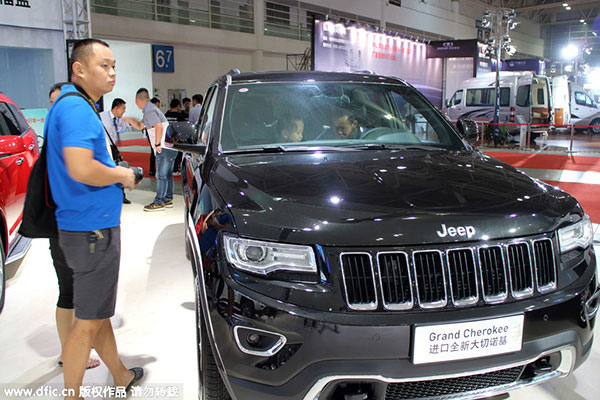 Visitors try out or look at a Jeep Grand Cherokee of Chrysler on display at an auto show in Fuzhou city, Southeast China's Fujian province, Oct 1, 2014. [Photo/IC]
CHICAGO - Fiat Chrysler is recalling 894,000 Jeep, Dodge and Fiat SUVs worldwide to fix problems with anti-lock brakes and air bags, according to documents posted at the website of the Italian-American auto maker Friday.
The first recall covers nearly 542,000 Dodge Journeys and Fiat Freemonts from 2012 to 2015. Moisture can build up in the anti-lock brake control module, disabling the system and the electronic stability control.
Fiat Chrysler said in the announcement that it found the problems by investigating warranty claims. Dealers will apply a sealant and replace electrical parts if needed.
The company is also recalling 352,000 Jeep Grand Cherokees and Liberty from 2003 and 2004 because the air bags can inflate for no reason.
There were seven injuries, according to the company.