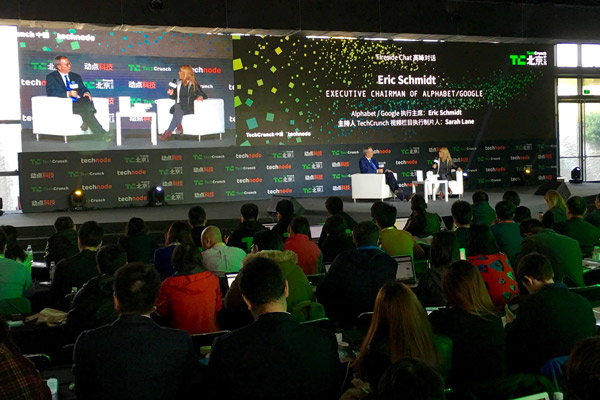 Eric Schmidt, executive chairman of Alphabet Inc, joins a fireside chat on November 2, 2015 during the TechCrunch Beijing summit held in Beijing. [Liu Zheng/chinadaily.com.cn]
Online rumors and predictions about US tech giant Google's possibilities of restarting its services in the Chinese mainland have gone viral although the company itself has still not made any definitive comment.
"Google is in constant dialogue with Beijing as it seeks to better serve the country," said Eric Schmidt, executive chairman of Alphabet Inc, the parent company of Google Inc, at the two-day TechCrunch Beijing summit which ends Tuesday.
One of main reasons behind his China visit is to strengthen the links between the company and the country, according to Schmidt.
"About 500 staff members remained on the company's roll after we left, and Google has lots of partners (in China) and we also have offices in Greater China region-- in Taiwan and Hong Kong," said Schmidt. "The interesting thing is that Google never left China," he added.
Sergey Brin, co-founder of Alphabet, recently also expressed his willing to do business in China, following the reorganization of Google Inc.
Five years ago, Google pulled its major services -- including online search, e-mail and mapping -- out of the Chinese mainland due to disagreements over industry regulations.
Last month, the US-based search engine took a minority stake for $75 million in the latest round of funding of Beijing-based artificial intelligence startup Mobvoi.
The rare investment made by the company in China claimed local media is an indication that the engine's return is around the corner.
Speaking at the conference, Schmidt praised the country's entrepreneurialism and innovation, citing drone star-ups -- DJI and the company's new smartphone partner Huawei as examples.
"Huawei, after many years, have (produced) an extraordinary set of mobile phones," he said.
Google's Nexus 6P, one of the company's second-generation phablet, is co-produced by Huawei under a partnership entered in July.
Answering one of the questions that he has always been asked, Schmidt shared his thoughts on why WeChat, the instant message application, was invented in China rather than anywhere else.
"The mature banking system, identifications system and the way the distribution works make the integrated services provided by the app more relevant here rather than in the US," said Schmidt.
Some of the other core technologies that Google has currently invested in, including machine learning, deep learning, drone-based delivery, and automotive vehicles were also briefly introduced by Schmidt during the event.