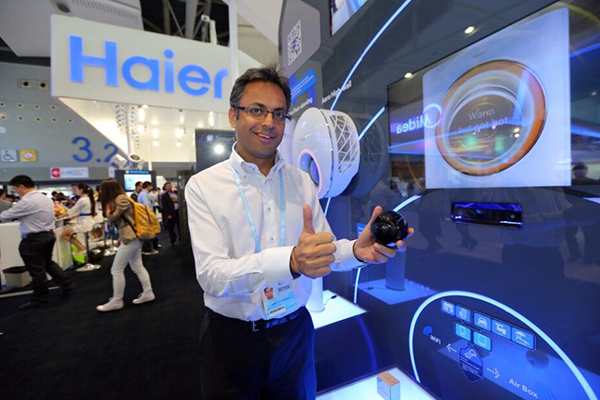 A buyer gives a thumb up to a Haier product at the Canton Fair in Guangzhou, capital of Guangdong province. Haier, the largest home appliance maker in China, is upgrading its business model by creating "micro-enterprises" among its employees to stimulate innovation. [Photo/Xinhua]
Along with Chinese rivals Midea Group and TCL Corporation, the home appliances giant is reaping the rewards of a high-tech approach
Zhang Ruimin, chief executive officer at Haier Group, has a distinct vision for the multinational consumer electronics and home appliances giant.
Recognized as a leading global player, the company is taking a "smart" approach when it comes to the future with its next generation of washing machines, refrigerators and cookers.
By using big data linked to the group's Qingdao production base in Shandong province, Haier is breaking away from the traditional big company business model.
"It's about unifying employees and staff with the customer," Zhang, 66, who has transformed the group since he started there more than 30 years ago, said.
To do this involves technology and lots of it-along with massive will power.
Since 2013, 21,000 employees out of a global workforce of more than 60,000 have formed special "micro ecosystem" teams to produce new products, and monitor the swings and shifts in the home appliances market.
Listening online to what customers want to buy, as well as tracking popular products and innovation inside the industry, is crucial.
Big data, a broad term for processing vast amounts of complex statistics which can be boiled down into market and consumer trends, plays a vital role in this "new model".
Once Haier knows what customers are looking for, they can realign their manufacturing, roll out new models, and cut down on the oversupply of white goods that are no longer popular.
In short, this illustrates, Zhang's management philosophy: "Challenge yourself, overcome yourself."
So far, the company's entrepreneurial program to track business trends has generated 100 million yuan (($15.87 million) in extra revenue.
Most of the people involved in the "micro ecosystem" teams are affiliated to Haier, but not directly employed by the company. They are paid on results by tracking consumer shopping habits and coming up with ideas that will make the company more successful.
Others are at the sharp end of the production process-dreaming up new products. Many are small startup companies that came together on the group's online platforms.