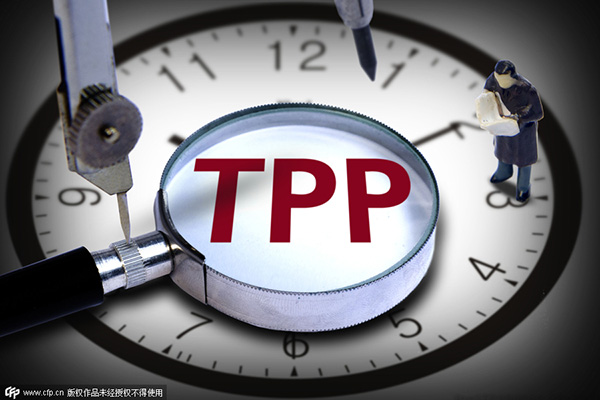 China is open to any trade mechanism as long as they follow the rules of the World Trade Organization and are good to economic integration of the Asia-Pacific region, Commerce Minister Gao Hucheng said on Oct 8 in response to the TPP. [Photo/CFP]
China should actively involve itself in discussions for joining the Trans-Pacific Partnership (TPP), said business executives at a forum in Beijing on Friday.
"China will join the TPP in the end," said Eddie Chen Yonglan, managing director and regional head of leading French investment company Eurazeo, adding that it's a pity that China lost the chance of forming rules as a founding member.
The TPP framework takes cooperation beyond trade level, by involving areas such as government procurement, labor issue and intellectual property, said Chen. "Investment rules are becoming equally important as those in trade."
To shift toward an innovative economy, China has to promote intellectual property protection, said Bill Huang Xiaoqing, founder and CEO of cloud computing service provider CloudMinds Inc, at the forum.
"The TPP shouldn't been seen as containment to the country," said Huang, "China should actively involve itself in the negotiation."
He added that there remains ongoing debate in Japan in terms regarding service trades and agriculture, as well as discussions on whether the TPP should adopt current rulings of American laws.
Victor Gao, chairman of China Energy Security Institute, urged TPP's founding members to release the full agreement that is currently confidential as soon as possible. "If it's a promotion of free trade, China should not be worried."
The TPP is a partnership agreement among 12 Pacific Rim countries including Brunei, Chile, New Zealand, Singapore, Australia, Canada, Japan, Malaysia, Mexico, Peru, the US, and Vietnam, which account for a combined 40 percent of the global economy.
The members reached an agreement on Oct 5 after seven years of negotiations, with the rules pending to be endorsed at each home country. China was not included in the TPP talks.
The forum, co-held quarterly by the Western Returned Scholars Association and the United Front Work Department of the Central Committee of the Communist Party of China, aims to provide a sharing platform to overseas returnees and open doors for collective wisdom, said a spokesman of the event.