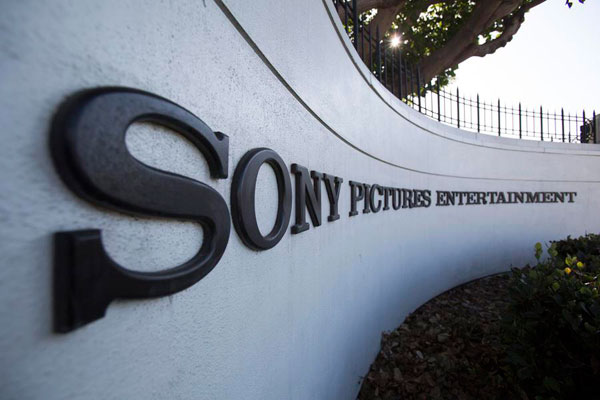 A logo is pictured outside Sony Pictures Studios in Culver City, California December 19, 2014. [Photo/Agencies]
Three Japanese business-promotion agencies signed a cooperation memorandum in Beijing on Monday with the China Council for the Promotion of International Trade, to create a better trade and investment environment between the two nations.
The Japan-China Economic Association, Japan Business Federation and Japan Chamber of Commerce and Industry have brought more than 220 representatives to China, in what is considered one of the biggest Japanese business delegations ever to visit the country.
The agreement includes building an information-sharing and communications mechanism, encouraging companies from both sides to exchange views on political and business conditions, and organizing regular delegations to seek joint-investment opportunities in fast-growing industries.
Both sides have committed to allocating manpower and resources to the initiative, in both the private and public sectors.
Muneoka Shoji, president of the Japan-China Economic Association, said Japanese companies are hoping that political ties between the countries can be quickly improved, so that they can seek to increase sales in China to maintain stable growth.
"China has already released the key points of its 13th Five Year Plan (2016-20), and Japanese companies are keen to participate in the Belt and Road Initiative and its ongoing industrial upgrading, especially in healthcare, industrial robots and energy-saving industries," said Shoji, who is also president of Nippon Steel Corp.
Proposed by China in 2013, the initiative is a trade and infrastructure network that includes the Silk Road Economic Belt and the 21st Century Maritime Silk Road.
The network connects Asia, Europe and Africa, and passes through more than 60 countries and regions with a combined population of about 4.4 billion.
China is Japan's largest trading partner. Bilateral trade was worth $206.95 billion between January and September, accounting for 7.1 percent of China's total foreign trade.
Japan invested $2.1 billion in China in the first half of this year. China's outbound direct investment to Japan has also grown rapidly over the past five years.
Jiang Zengwei, chairman of the CCPIT, said that as the China-South Korea-Japan investment agreement officially became effective, stronger interdependence of Chinese and Japanese businesses will help the two countries deepen trade relations.
China is exporting consumer goods in exchange for Japan's high-tech products, said Zhao Zhongxiu, a trade professor at the University of International Business and Economics in Beijing. "Most of their imports are complementary. It isn't direct competition."
Liu Qiangdong, chief executive officer of Beijing-based JD.com Inc, one of China's e-commerce giants, said cash-rich Chinese and technology-rich Japanese companies can work together to create new market points, as well as developing the market in a third country and international manufacturing capacity utilization.
The company has stocked more than 100 million yuan ($15.78 million) worth of Japanese goods for this year's Nov 11 shopping festival.