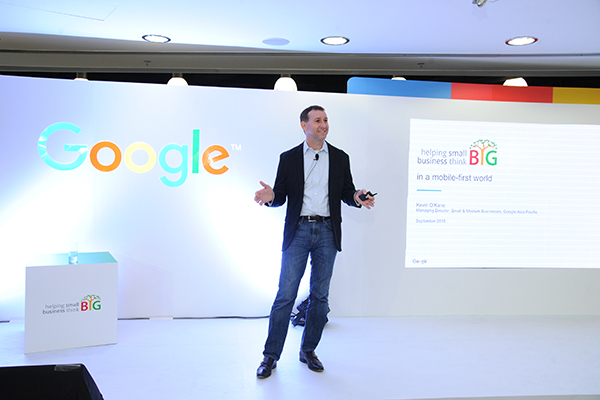 Kevin O'Kane, Google's managing director of small and medium business for Google Asia-Pacific, delivers a keynote speech on Sept 17, 2015, during a SMEs' exhibition held in Hong Kong. [Photo provided to chinadaily.com.cn]
US search engine Google held its first exhibition in Hong Kong on Thursday to introduce its online advertising engagement with small- and medium- sized enterprises (SMEs) based in China.
The event, Helping Small Businesses Think Big: in a Mobile-First World invited 11 SMEs to meet under one roof to showcase the company's online marketing tools and the achievements that the SMEs have made due to strategies provided by Google.
According to Google, all the firms are small local companies that utilize Google AdWords, an online advertising service backed by Google to build brand awareness, reach worldwide potential customers and expand global business.
Henan Yilong Carpet Company Ltd, Solo Launcher and Sino Biological Inc are three of the enterprises from the Chinese mainland.
"In the past, trade fairs at home and abroad were the main channel for marketing and sales of small business in the Chinese mainland, resulting in limited inquiries," said Han Jianli, Yilong's general manager.
"With the increasing popularity of the Internet, and the nation's 'Internet Plus' initiative that aimed at rejuvenating traditional industries, Yilong switched their tactics and attempted online marketing. The rewards were almost immediate," Han added.
Henan Yilong Carpet Factory, the predecessor of Yilong, was founded in 1987. It is the largest manufacturer of oriental Persian handmade silk rugs in China.
According to Han, Yilong estimates that online marketing was 100 times more effective than anything else they had tried.
Yilong started working with Google in 2007 running campaigns for both retail and wholesale customers. Search ads attracted their target customer group and drove sales. Display ads raised awareness with potential customers interested in their product.
Yilong's annual sales volume has increased more than six times, from $700,000 to $5 million. The number of clients has risen from two to 600.
"Currently Yilong is working with Google to optimize their website to make it mobile-friendly," Han told chinadaily.com.cn.