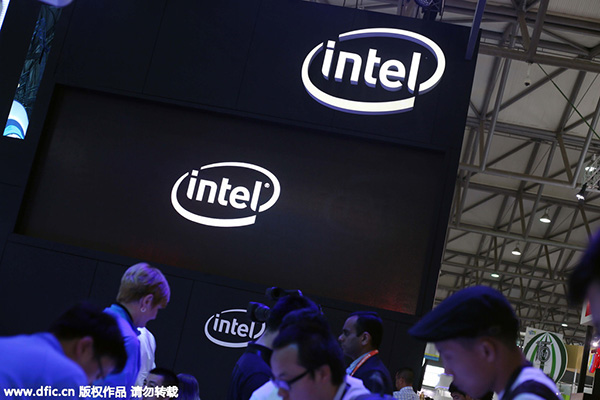 People visit the stand of Intel during the 2015 International Consumer Electronics Show Asia (CES Asia) in Shanghai, May 26, 2015. [Photo/IC]
Intel Corp has invested a total of $67 million in eight Chinese technology startups, in an effort to give it an edge, it said, in emerging sectors such as next-generation smart devices, robotics and cloud services.
The investment comes less than a month after the United States-based multinational pumped more than $60 million into a Shanghai-based drone maker, Yuneec International Co Ltd.
Twelve Chinese companies have received capital injection from Intel this year, including a roughly $1 billion investment in a mobile chip set subsidiary under the State-owned Tsinghua Unigroup. The US company has now invested nearly $2 billion into more than 140 Chinese companies since 1998.
Ian Yang, Intel's China president, said the country's increasing demand for innovation, particularly in consumer electronics, had driven the investments.
"The growing spirit of grassroots innovation in the country is likely to present more investment opportunities," Yang said on Thursday.
The investments have been made by Intel Capital, its investment and mergers and acquisitions wing.
Intel said in a statement the latest investments in China, now considered the world's second-largest electronics market, will focus on smart devices, the Internet of Things, drones, visual reality and data analytics.
Officials did not specify the size of investment in each company, but most are at their first round of financing.
One of the most eye-catching recipients is Ninebot Inc, a Tianjin-based short-distance personal electric-vehicle maker which acquired industry leader Segway Inc in April.
Earlier this year, the company announced it had raised $80 million from Xiaomi Corp, Sequoia Capital and two other venture capital firms.
Gao Lufeng, its founder and chief executive, said there was a possibility of now using Intel technology in its future vehicle models, but did not reveal details.
Another recipient is Nuovo Film Inc, based in Suzhou, Jiangsu province, which makes nano touch film used in smartphones and tablets.