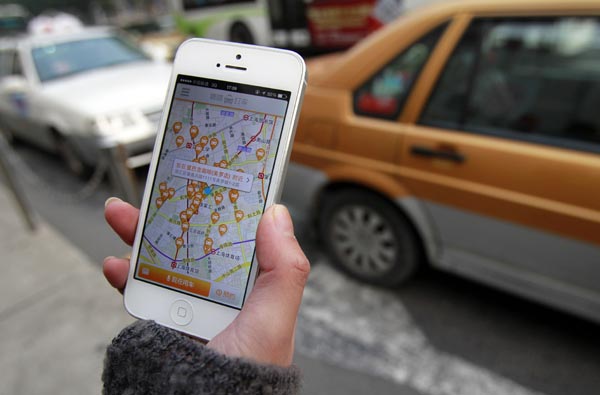 A customer checks his smartphone app that eases finding a taxi. [Photo/China Daily]
Beijing launched a government-backed car-hailing app called Shouqiyueche on September 16.
The city has been pretty resolute in its battle against private or rented cars offering similar services. Market players from home and abroad, including Didi Kuaidi and Uber, have faced investigation multiple times.
However, these apps are hard to regulate as demand for better services and rates soars, with private drivers wanting to use their own cars to make an extra buck.
To oversee the market, the Beijing municipal government has debuted an official service with licensed vehicles and drivers.
The 500 cars that have already hit the road have been converted from taxis, cutting the number of cabs roaming the streets as ian ncreasing number of passengers book trips online.
According to some, new services are almost twice as expensive as traditional cabs. Most of the current fleet of vehicles are cosy four-door sedans, with rates including a base, per mile and by-the-minute service fee.
The service also benefits drivers as they are no longer responsible for rental costs, gas fees and maintenance, which usually squeezes the income of traditional cabbies.
Those interested in trying the service can pick up rides near hotels, the airport and in business districts. Beijing wants to see 1,800 such cars on the street by year end.