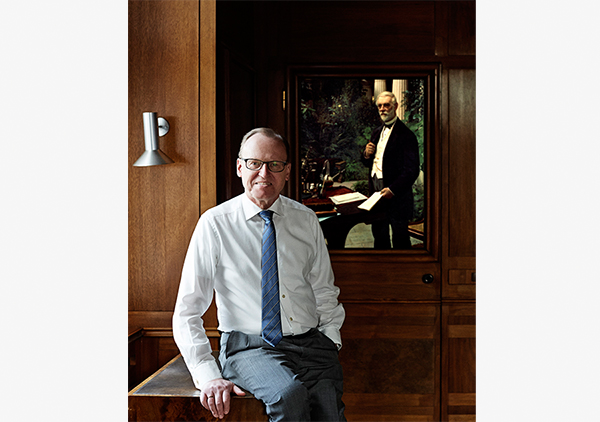 Flemming Besenbacher, chairman of Carlsberg Group and chairman of the Carlsberg Foundation, sits in front of the portrait of Carlsberg's founder, J. C. Jacobsen, in the company's headquarters in Copenhagen. [Photo provided to China Daily]
Carlsberg's chief wants Chinese businesses to learn from its heritage
Flemming Besenbacher has so many portfolios under his belt that it is difficult to gauge in what capacity he is talking to you. He is one of the most influential researchers in Denmark, world-renowned nanoscientist and chairman of the Denmark-based beverage giant Carlsberg Group. At the same time, he is also an expert in Danish corporate governance.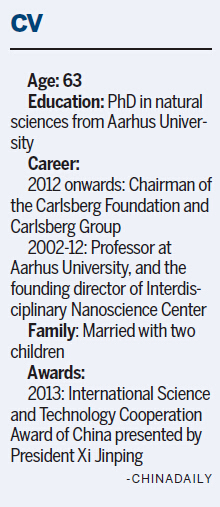 It was the last mentioned credentials that brought Besenbacher to China recently. Though it was his 51st trip to the country, he sounded as excited as a first-time visitor when he talked about the Danish corporate governance mode and other aspects of the business.
Carlsberg is a unique company, he said. Its founder, J. C. Jacobsen, decided in 1876 to donate his entire business to the Royal Danish Academy, a non-governmental science academy which was founded in 1742 for the advancement of science in Denmark. The Carlsberg Foundation, which owns Carlsberg Group, is funded by dividends from the company and consists of five professors.
"It is a governance model that is working even today and the foundation is the controlling shareholder. Though it has just 30 percent of the company shares, it accounts for 76 percent of the votes," he said.
Besenbacher, who chairs the foundation, said he believes that they have unique responsibilities and two main priorities. The first is to ensure that the world's fourth-largest beer group is on a strong footing. "We are more excited by the second responsibility of giving back around 300 million danish kroner ($45.56 million) every year for furthering basic fundamental sciences," he said.
"I normally tell everyone that you should remember every time you buy a product from Carlsberg Group, you are actually giving money back to the society," he said, during an interview with China Daily on the sidelines of the Summer Davos forum in Dalian, Liaoning province, on Sept 10.
"I am trying to tell some rich Chinese people that it may be a good model to emulate in China." Besenbacher also spoke about the globalization, the Chinese market and his interests in the country. Following are edited excerpts:
Could you tell us a little about the Circular Community initiative?
This is something that I am particularly proud of. Around 45 percent of Carlsberg's CO2 emissions came from our packaging, be it PET bottles, glass bottles or cans. In Denmark, we have initiated a new product together with a small Danish startup company and the Danish innovation foundation. We plan to develop fully biodegradable bottles made out of wood fiber. This year marks the beginning of the three-year product development process.