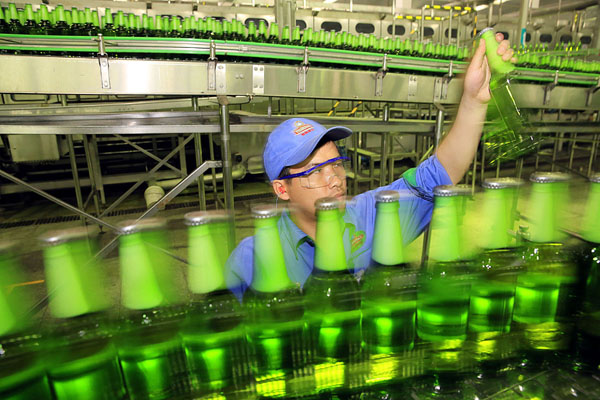 A worker monitors a beer product line at  Tsingtao Brewery Company Limited in Jiujiang, Jiangxi province, May 19, 2014. [Photo provided to China Daily] 
Beer output fell last year for the first time in a decade, with producers facing price pressure as a result of the anti-corruption campaign and rising costs, industry officials said.
Production slid 0.96 percent to 49.22 million kiloliters. In December alone, beer output slid 17.2 percent to 2.42 million kiloliters, according to chinaibeer.com, the website of the Beer Professional Committee at the China Food Industry Association.
The figures show that in the second half, output fell every month on a year-on-year basis.
"The government's austerity drive has damped beer consumption. Tougher food safety standards also had an effect," said a manager at one well-known beer brand, who spoke on condition of anonymity.
"Higher prices for imported barley pushed up costs, which affected output."
China's beer industry has undergone profound changes in recent years and become much more concentrated.
The top five brands - Huarun Snow Beer Co Ltd, Tsingtao Brewery Co Ltd, Budweiser, Beijing Yanjing Brewery and the Carlsberg Group - have 80 percent of the market. The remainder is split evenly among Chinese and foreign beer companies.
Domestic beer producers need to find internal sources of growth, rather than looking to merger and acquisition opportunities, which are becoming scarcer, the National Business Daily said.
"Beer sales at restaurants and entertainment venues are gloomy, since a lot of officials didn't dare to eat out or even go to karaoke parlors. Many companies suspended their gift-giving activity in the wake of the austerity drive, which led to declines of beer sales at supermarkets," said an administrative employee at a Chinese beer producer who declined to be identified.