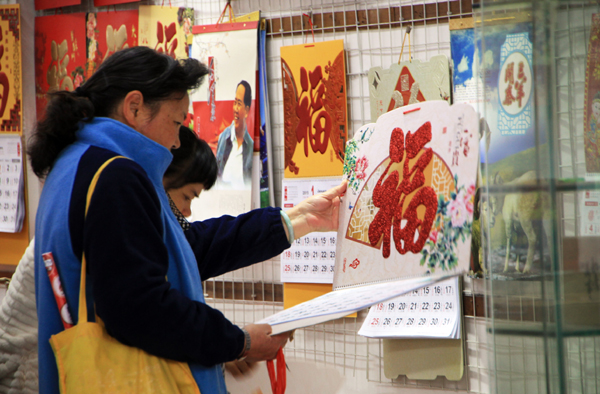 People examine calenders at a wholesale calendar market in Guangzhou, Guangdong province. [Photo Provided to China Daily]
Many have already left the industry made outdated by smartphones and the anti-corruption campaign.
December has traditionally been the busiest month for tenants of Hecheng, the biggest calendar-wholesale market in Guangdong province's capital Guangzhou-but not this year.
Trucks should have been coming and going, delivering stacks of calendars from printers to stores and then to buyers across the country. Salespeople should have been busy checking and repacking to ensure calendars were sent to clients before 2015.
But about two-thirds of the more than 60 stores were shut down when China Daily visited in mid-December.
The remaining stores were quiet. Most shop assistants blankly gazed at computer screens.
Faded banners drooped from the market's walls and swayed in the frigid winds.
They signaled this winter's chill of China's printed-calendar industry.
The cold front that has frozen the industry is the top anti-graft body's ban on government spending on New Year gifts, such as calendars, greeting cards, and postcards.
The Central Commission for Discipline Inspection of the Communist Party of China announced the ban on Oct 31, 2013.
It prohibits Party and government bodies, State-owned enterprises, and public and financial institutions from using public funds to purchase, print, or mail calendars, New Year cards and postcards as presents with public funds.
The ban is intended to stop the formalistic and extravagant custom of making paper calendars into luxurious gifts, as had been common practice.
The ban has proven effective.
All relevant organizations canceled their orders for calendars immediately after the announcement.
Yet government-supported bodies were their chief clients.