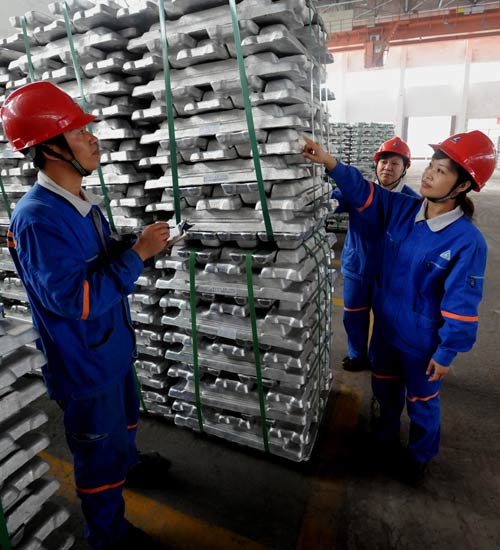 Technicians inspect aluminum ingots for export at the Aluminum Corp of China Ltd's Guangxi branch. Sun Zhaoxue became general manager of Chalco from 2013. LUO ZHIKEN/FOR CHINA DAILY
Former executive is expelled from CPC, dismissed from office, Party says
The former general manager of Aluminum Corp of China Ltd, the country's top aluminum producer, was expelled from the Communist Party of China and dismissed from office, as China stepped up its anti-graft drive after a series of scandals.
Sun Zhaoxue, former general manager of Chalco, was found to have taken advantage of his position to "secure benefits for others, solicit and accept a huge amount in bribes". He was also found guilty of adultery, according to the announcement made by the CPC Central Commission for Discipline Inspection on Tuesday.
Sun, a former member of the CPC committee of Chalco, has been held for investigation for "suspected serious legal and disciplinary violations" since September, the CCDI said in an earlier statement on its website.
His case has been already handed over to prosecutors, as his behavior seriously violated CPC discipline and his act of accepting bribes is suspected of breaking the law, the announcement said.
The Supreme People's Procuratorate has already placed the case on file and started an investigation on Sun.
Sun once served as general manager of the China National Gold Group Corp, China's biggest gold producer, from 2006 to 2013, before moving to Chalco. Experts said the impact on Chalco is not going to be dramatic, as Sun has been with Chalco for only about a year.
China's metals industry has been grappling with losses due to tougher credit conditions that are likely to persist in the coming years and also industrial consolidation, experts said.
Chalco shares dropped 7.21 percent to 5.92 yuan (95 cents) on Tuesday in the Shanghai stock market.
China has intensified its crackdown on corruption, spreading from sectors of oil and gas, mining to non-ferrous metals industry.
Two officials from Shenhua Group Corporation Ltd, China's biggest coal producer, and a former vice-president of a Shenhua unit have been investigated for suspected violations of the law, according to a statement by CCDI.
Hua Zeqiao, the former vice-president of the listed China Shenhua Energy Co, Zhang Wenjiang, an assistant general manager at the group that mines and trades in coal, and Liu Baolong, a safety-inspection official with Shenhua's Ningxia-based coal unit, were under investigation, the statement said.
Shares of Shenhua Energy fell by 1.7 percent to HK$23.05 ($2.97) on Tuesday on the Hong Kong stock exchange, compared with a 0.3 percent decline in the benchmark Hang Seng Index.