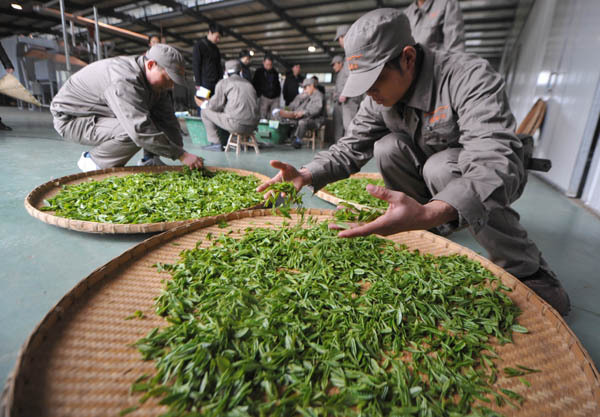 Workers from Xieyuda Tea Co select freshly picked tea leaves in Huangshan, East China's Anhui province. [Photo provided to China Daily]
The taste for high-end tea has been drying up this year, as prices have been under pressure from the government's austerity drive and anti-graft campaign in addition to a slowing economy.
Many companies that sell high-end tea, such as Yunnan Taetea Tea Industry Group, a leading Pu'er tea company, are vying to lure more customers by offering lower prices. Taetea has lowered the prices of its most popular products by more than 50 percent since March this year.
Total domestic tea output this year was around 1.95 million tons-relatively flat compared to last year-but sales of gift sets and group-purchasing dropped, and the market was expected to be filled by growing demand for mid-range tea products, according to a recent report by the China Tea Marketing Association.
Many premium tea brands saw constant slides of their prices under state control. A type of the finest Pu'er by Chinese tea brand Dayi saw its price drop from 24,000 yuan to 10,000 yuan a kilo.
"Earlier the tea market was filled with speculative bubbles, most Chinese tea products boasted overly-high prices," said Wu Jing, editor-in-chief of teatalking.cn, the website of the China National Tea Museum Tea Club.
"Tea prices are going to bounce back to become more rational. Brands need to stand out by utilizing their regional competitive advantages in production and providing tea products that are highly cost-effective," Wu said.
Guangzhou province, a main production region for tea, saw the sales of high-end tea at local large tea companies decline, with many wholesalers and distributors closing their stores.
Wu estimated that nearly 30 to 40 percent of the merchants had closed their businesses.
At Fangcun tea market, the biggest trading market for tea in Guangzhou province, most retail shops scarcely see any customers. Every seventh or eighth store was empty or closed and waiting to be sublet.
Group orders used to account for more than half of most retail merchants' sales, but now sales mostly come from individual buying, 21st Century Business Herald reported.