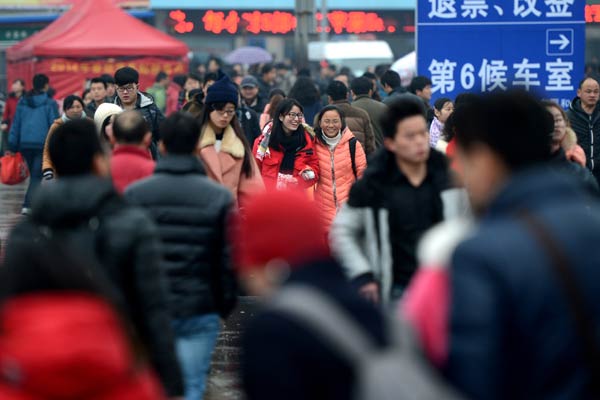 Passengers exit Hefei Railway Station on Feb 16, 2014. [Photo/Xinhua]
BEIJING - China's transport networks carried 1.68 billion passengers in November, marking a 5.2 percent year-on-year rise, latest statistics from the country's top economic planner showed.
China's railways carried 170 million passengers in November, up 9.6 percent year on year, the National Development and Reform Commission (NDRC) said on its website.
The passenger volume for roads and aviation in November posted a 4.5 percent and 13.6 percent growth year on year to reach 1.45 billion and 3.2 million, respectively, according to the NDRC.
The NDRC estimated that China's transport networks will transport a record number of passengers during the upcoming chunyun, a peak travel period around Spring Festival.
Up to 2.8 billion trips are expected to be made via roads, railways, aviation and waterways during the 40-day chunyun that starts on Feb 4, up 3.4 percent year on year, the NDRC predicted.