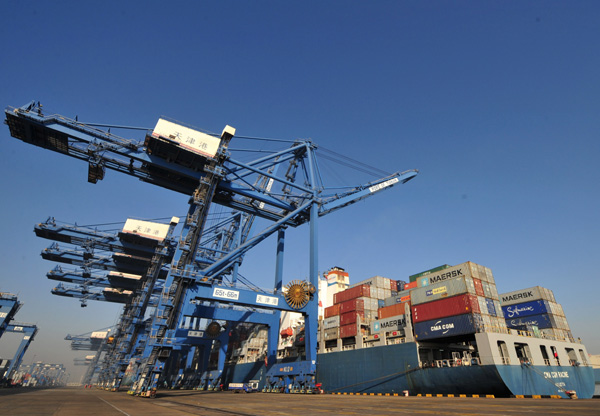 Cargo is offloaded at Tianjin Port. A joint venture port corporation was established on Tuesday to integrate the maritime transport resources of northern China. [Photo/Xinhua]
A joint venture port corporation was established on Tuesday by Tianjin Port Group Co Ltd and Hebei Port Group Co Ltd to combine the maritime transport resources of northern China and support plans for the integrated development of Beijing, Tianjin and Hebei province.
About 2 billion yuan ($325 million) will be invested by the Bohai Jinji Port Investment and Development Co Ltd to develop port facilities in Tianjin and Hebei on the Bohai Sea, said Li Zengjun, chairman of the company.
"Each partner holds a 50 percent stake, which will promote an equal relationship between the Tianjin and Hebei ports," Li said.
Tianjin is a regional hub for many railroads in northern China. It is also the country's third-largest maritime port by bulk cargo throughput and the fourth-largest by container throughput.
Hebei Port Group, established in 2009, has experience in bulk cargo transportation and favorable seashore resources.
"The partnership of the two northern ports could lead to a bigger alliance to coordinate container and bulk cargo shipping, as well as supporting logistics networks, storage facilities and human resources," said Zhang Shouguo, vice-president of the China Shipowners' Association.
According to Tianjin Port, the venture will manage port resources, boost the development of regional logistics, promote shipping and logistics finance and support shipping services.
"The purpose of signing the new agreement is to compete with fast-growing ports such as Shanghai, Ningbo-Zhoushan, Xiamen and Shenzhen in the south," said Zhang.
Boosted by rising berth utilization rates and throughput, these ports' profitability improved in the second quarter compared with the same period in 2013.
"This strategy can cut costs for daily operations, staff and other items. It is practical for China's major ports to form a union to offset competition from larger ports in the south, as well as regional rivals such as Busan, South Korea, given current shipping market conditions," Zhang said.