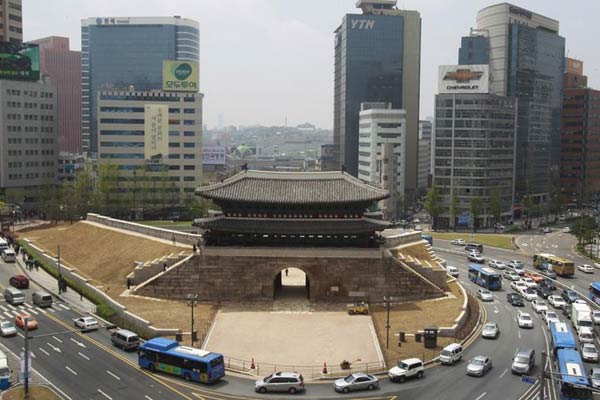 Sungnyemun gate is seen in downtown Seoul, South Korea, April 29, 2013.  [Photo/IC]
Spending by Chinese visitors to South Korea is projected to reach 30.5 trillion won ($29.8 billion) by 2020, nearly quintupling that of last year, Yonhap said.
The news agency cited a report by Hana Daetoo Securities Co saying the figure is equivalent to 7.7 percent of the 398.2 trillion won forecast for that year's total retail sales.
According to data from the Korea Tourism Organization and Hana Daetoo Securities, the number of tourists from China, which already make up more than one-third of all visitors, is forecast to climb 19.8 percent on an annual basis, hitting 14.9 million six years from now.
Chinese tourists make up a major portion of demand in the local retail market providing a huge source of growth for all types of business, Park Jong-dae, a researcher from Hana Daetoo Securities, was quoted as saying.
Statistics also showed that the Chinese made 574,000 journeys to the ROK in June alone, accounting for 45 percent of all overseas tourists. Among those 305,000 were female who have become key consumers in South Korean duty-free shops and of the cosmetics industry.
Duty-free items and cosmetics will likely continue to be the most popular items for visitors from Asia's No 1 economy, with the amount spent on duty-free shopping expected to jump almost fourfold to 9.2 trillion won in 2020 compared with last year, according to Hana Daetoo's report.
Strengthened purchasing power among Chinese has led to shopping sprees in recent years with spending in the ROK last year estimated to have led to 13.4 trillion won worth of additional production and 240,798 more jobs, Yonhap said.