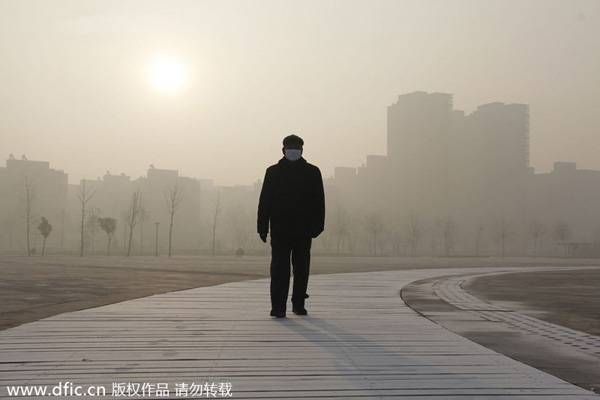 A man with face mask in Anyang city, Henan province, Feb 25, 2014. [Photo/IC]
BEIJING - China's revised Environmental Protection Law will come into effect Thursday, bringing with it heavier punishments.
According to the revised law, extra fines accumulating on a daily basis will be imposed on enterprises that fail to rectify violations.
Local officials may be demoted or sacked for misconduct, including the concealment of offenses, falsifying data, failing to publicize environmental data, and not giving closure orders to enterprises that illegally discharge pollutants.
The new law also urges economic and social development should be coordinated with environmental protection and encourages studies on the impact environmental quality causes on public health, urging prevention and control of pollution-related diseases.
Specific articles and provisions are included that tackle smog, public environmental protection awareness and the protection of whistleblowers.
The revision, the first since the law was promulgated in 1989, was adopted in April by the country's top legislature.
A revised Budget Law is also due to take effect on Thursday. The new law is expected to help close loopholes in managing fiscal revenue and spending, thus, establishing a complete, transparent budgetary system.
For 2014, China's fiscal revenue is budgeted to be 13.9 trillion yuan ($2.26 trillion) and government spending to be more than 15 trillion yuan.
The monetary revision, adopted in August, green-lights bond sales by provincial-level governments, albeit with restrictions.
The old law prohibited local governments from issuing bonds, while, in practice, some have done so in a bid to raise funds to finance infrastructure projects. The money is, until the law comes into effect, unsupervised.
Under the new law, provincial governments are allowed to issue bonds within a quota, and money raised by the bonds can only be used for public services, and not for government operations.