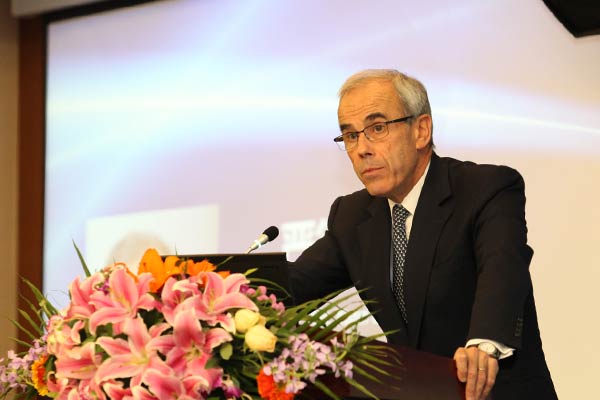 Faurecia's Chairman and CEO Yann Delabrière gives a speech at the China Vehicle Emission Control Policy Symposium in Beijing, Dec 4, 2014. [Photo provided to chinadaily.com.cn]
Organizations in China have come together to help reduce the country's air pollution by effectively implementing emission control policies for trucks, buses and other heavy-duty vehicles.
The alliance between government bodies, the auto industry and NGOs was one of the main outcomes of the China Vehicle Emission Control Policy Symposium in Beijing on Thursday.
Faurecia's Chairman and CEO Yann Delabrière signed a three-year partnership to support the regional nongovernmental organization Clean Air Asia's pollution reduction initiatives in a number of Chinese cities. He announced that Faurecia will lead the formation of an alliance of automotive industry partners to help the government implement new air pollution control policies.
The symposium focused on the introduction of China's National Phase IV Emission Standards for heavy-duty and commercial vehicles on Jan 1, 2015.
Keynote speaker Michael Walsh described the benefits of involving all main players, including policy-makers and regulators, industry business leaders and researchers, and NGO specialists, in the early stages of policy development to help shape practical roadmaps for effective implementation and enforcement.
Emissions by heavy-duty vehicles, including trucks and buses, contain large amount of particulate matter (PM) and nitrogen oxides (NOx), which are major sources of urban air pollution.
China's State Council plans to implement the National Phase V standard for automobile emission and gasoline and diesel by the end of 2017.
Walsh, having worked on motor vehicle pollution control with the US Environmental Protection Agency, advised Chinese regulators to skip the Phase V standard and jump to Phase VI. He said the Euro VI is on the way, and the Euro V is set to be obsolete soon. There is no necessity for China to rush into Phase V after IV, and then rush into Phase VI in the upcoming years.
"A car maker, even when working at a fast pace, needs at least three years to get well prepared for a new standard, although usually it takes four or five years," said Liu Jun, Pan Asia Technical Automotive Center Co's intake and exhaust system section manager. He added that there will be great costs to be paid for each time an automotive company updates the equipment for a new standard.
Yu Qingkai, director at Vehicle Emission Control Center of Dalian, said: "Indigestion might be a result of rush into the standard," as there could be companies cheating in the test and managing to get passed, but sell sub-standard products."
If China skips Phase V, the industry will have enough time to get prepared for the Phase VI standard after implementing Phase IV, according to Walsh.