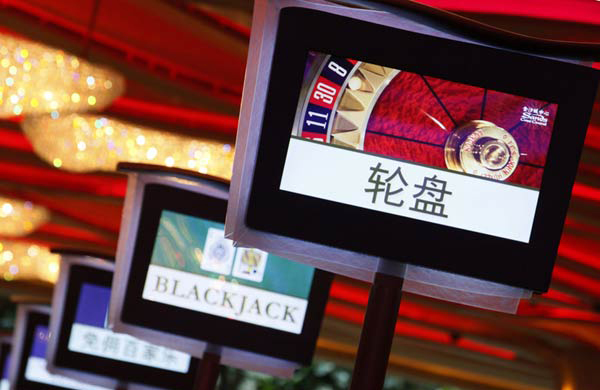 Display screens are shown at the gaming table inside a casino during the opening day of Sheraton Macao Hotel at the Sands Cotai Central in Macao, Sept 20, 2012. [Photo/IC]
Macao, the gambling capital of the world, saw its annual casino revenues decline for the first time in 2014 data released on Friday, as the Chinese government's corruption crackdown ended a decade of booming growth for the industry.
The release of special administrative region data showed gaming revenues falling by 2.6 percent year-on-year to 351.52 billion patacas ($44 billion) last year, the only decline since annual figures were first made public in 2002.
Last month's takings were especially dire, plunging by a record 30.5 percent year-on-year to 23.285 billion patacas. It was the seventh consecutive month of decline and the biggest drop since the gambling hub began recording monthly revenues in 2005.
Barclays analyst Phoebe Tse said China's high-profile corruption crackdown was a major factor pushing down the SAR's casino earnings in 2014.
"It has had a significant negative impact on VIP playing sentiment," she said.
Macao is the only part of China where casino gambling is legal, and the industry is dependent on big spenders from the mainland.
But the big rollers have been reined in by the anti-graft drive, in which President Xi Jinping vowed to crack down on high-ranking officials, described as "tigers", along with low-level "flies", in a campaign that includes curbing lavish spending.
Shares of casino operators listed on the Hong Kong Stock Exchange tumbled on Friday after the announcement-SJM Holdings shares fell by over 2.5 percent and Wynn Macao by more than 3.5 percent in afternoon trading.
Experts had predicted that growth in the VIP segment, which accounts for two-thirds of Macao's gaming industry revenues, would be limited by the continued focus on corruption.
Revenues hit a record $45 billion in 2013, official figures showed