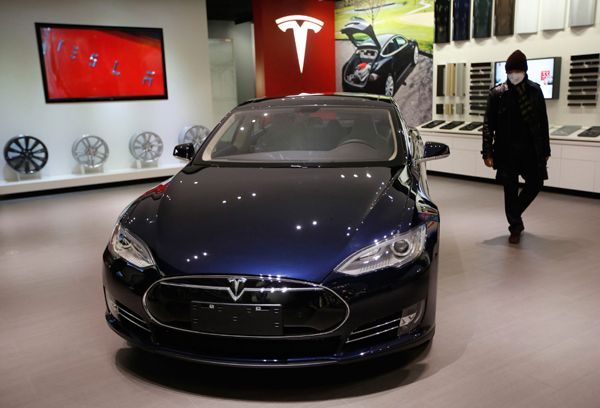 A man looks at Tesla Motors' Model S P85 at its showroom in Beijing. [Photo/Agencies]
Seven reasons why the Tesla Model S is the greatest game changer in motoring for decades.
If you'd have asked me a month ago whether there were any hybrid or electric cars I'd recommend you buy, you'd have been greeted with a series of questions about your daily mileage, off-street parking, annual voyages to the in-laws and so on. And then I'd have said, "no". (Or, if I didn't like you, recommended a G-Wiz.)
Such is the pace of change in this industry, however, I have since driven two such vehicles that would improve the motoring lives of a great many people. The first was the Audi A3 e-tron, and the second this Tesla Model S, which is not only the most important car to arrive in the UK this year, but arguably the past 20 years.
It is significant because it's a fully electric vehicle, as opposed to the petrol-electric hybrid Audi, and also because it moves the game on in a way few cars have ever managed.
For a start, it will cover up to 265 miles on a full charge, and so gone is that number one objection to battery-powered cars: range anxiety.
Tesla has also thought about the infrastructure, and is strategically scattering a network of its superpowerful Superchargers across the US, Europe and Asia-Pacific. These can give a Model S a 50 per cent battery boost in just 20 minutes, or a full charge in about an hour.
At present there are 14 such stations in the UK, but by 2015 this American brand, set up by technology entrepreneur Elon Musk, says it will have full coverage of the UK and Ireland. Oh, and I should mention that Superchargers are free to use.
Should that still not be enough, you can top up at one of the increasing number of public charging posts, or even via a three-pin plug, although it takes much longer (as in pour a cup of cocoa and think about turning in).
As for the car itself, first thing to note is that it is quite big. Think top-of-the-range Jaguar and you're on the right track. This is also the secret behind the Tesla's success (and with worldwide sales of more than 34,000 units this year, it is a success), because by being big it can carry a lot more batteries than the small EVs traditional car makers have been developing.
By packaging the batteries under the floor, the designers have created one of the most spacious interiors imaginable, right down to a couple of optional rear-facing jump seats that pop out of the boot floor, turning this sleek saloon into a seven-seater.
Then there's how it drives. Admittedly, I've been testing the higher-powered version, but the acceleration is astonishing, with zero lag. This makes overtaking as addictively easy as scoffing Maltesers. Before you know it all the cars in front have gone and you feel a bit sick.
Aside from the thorny issue of where the electricity comes from in the first place, the drawbacks are few. I love the 17 inch iPad-style touchscreen that dominates the dash, but some of the other interior fit and finish isn't what you'd expect of a vehicle costing upwards of £55,000 (let alone the £98,430 of our test car with all of its optional extras). And a few rivals also beat the Tesla for ride and handling.
But such things are not what you remember about a Model S. Rather, it's the serenity of driving on electric power, the punch of the motor and the sense that, for the first time, you might just have experienced what the car of the future will be like.