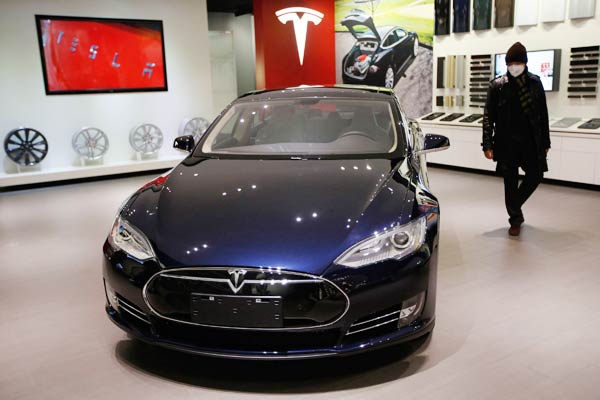 A man looks at Tesla Motors' Model S P85 at its showroom in Beijing in this file photo from Jan 29, 2014. US electric car maker Tesla Motors Inc said Dec 12, 2014 its China president, Veronica Wu, has resigned, without giving a reason for her departure. [Photo / Agencies]
CHENGDU -- US electric carmaker Tesla launched its second-largest experience center in the world in Chengdu, capital of Southwest China's Sichuan province.
The center, covering an area of 5,000 square meters in Chengdu's high-tech industrial development zone, was put into operation on Thursday, according to the zone's management committee.
Targeting China's relatively underdeveloped western regions, the vast compound provides comprehensive services, including test drives, sales and maintenance.
Tesla has set up eight other experience centers in Beijing, Shanghai, Hangzhou, Shenzhen and Xi'an. The Chengdu outlet is the largest among all Tesla centers in Asia.
In a bid to boost sales, the leading automaker has stepped up construction of charging facilities in the country.
In late August, it teamed up with China Unicom, a major telecom firm, to set up 20 supercharging stations in 20 cities and 400 charging points in 120 cities. So far, it has 38 supercharging stations in 17 cities and nearly 700 charging points in over 60 cities.