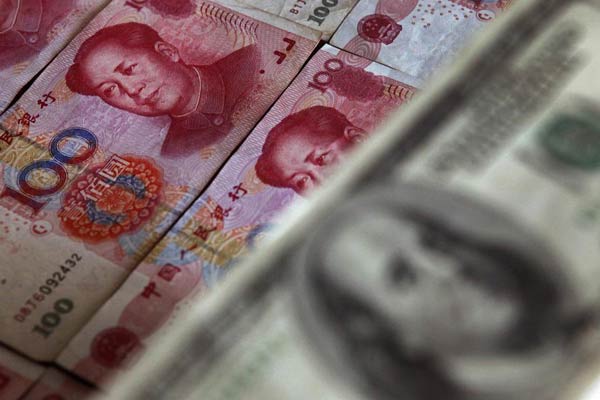 A photo illustration shows a $100 banknote placed above Chinese 100 yuan banknotes in Beijing in May 10, 2013. [Photo/Agencies]
BEIJING - China's capital account deficit widened sharply in the last quarter of 2014 as domestic companies expanded investment overseas.
The capital and financial account deficit was $91.2 billion for three months ending in December, compared with the third quarter's $9 billion, according to preliminary statistics released by the State Administration of Foreign Exchange (SAFE) on Tuesday.
China posted deficit on its capital and financial account for three consecutive quarters due to rapid increases in overseas investment and speculation of further depreciation of the yuan, the country's currency, analysts said.
Wen Bin, chief researcher at China Minsheng Bank, said capital and financial account deficit may become a "new normal" as the country faces pressure from capital outflows amid expectation of a weaker yuan.
China reported a current account surplus of $61.1 billion in the fourth quarter last year, narrowing from $72.2 billion  posted in the third quarter, the SAFE said.
The country saw a $213.8 billion current account surplus for the full year and a deficit of $96 billion on the capital and financial account, it said.