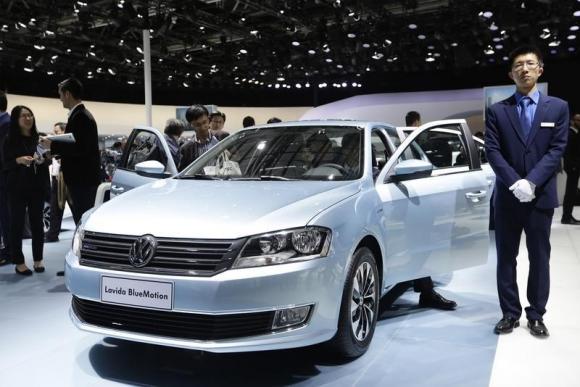 A Volkswagen Lavida Blue Motion car is displayed at Auto China 2014 in Beijing, April 20, 2014. [Photo/Agencies]
German carmaker Volkswagen Group plans massive investment in China over the next five years to maintain its three-decade-long leadership in the world's biggest vehicle market.
Jochem Heizmann, president and CEO of Volkswagen Group China, told China Daily on Feb 12 that the company plans to invest 22 billion euros ($25 billion) between 2015 and 2019 in China, its biggest single market.
The figure is up from 18 billion euros the dominant carmaker in China previously planned for 2014 to 2018.
Jochem Heizmann, president and CEO of Volkswagen Group China
The newly charted investment will be put into an array of areas ranging from new production capacity and new products to research and development, Heizmann said.
He said Volkswagen's annual production capacity will grow to 5 million cars by 2019, up from roughly 3.1 million units in 2013.
"It is not only volume, it is also qualitative growth," he stressed.
The group's China sales rose by 12.4 percent to 3.68 million units in 2014, accounting for a staggering 37 percent of its global deliveries.
The sales also accounted for 20.5 percent of China's entire passenger vehicle market last year, according to the company.
"We aim to hold the market share or a little bit more in 2015," Heizmann said without giving a specific sales number. "We are also preparing for the future."
He predicted that the entire passenger vehicle market in China will grow 5 to 8 percent this year from 2014. Last year, overall passenger vehicle sales in China rose by 13 percent to 18.39 million units, according to the industry data.
The carmaker, together with its affiliate brands including Audi and Skoda, will offer more than 30 new products this year in China, both locally made and imported, he said.
As one of the earliest foreign carmakers with local production, the group now has 28 plants to produce vehicles and components in a slew of Chinese cities.
The cities include Changchun in Northeast China, Shanghai and Ningbo in the east, Foshan in the south, Chengdu in the southwest and Urumqi in northwestern China.
Its new car plant in Changsha, Hunan province, will start producing passenger cars this year for Shanghai Volkswagen.
"There will be 4,000 highly qualified people (working) in the Changsha plant, and this is combined with a highly qualified program," said Heizmann.