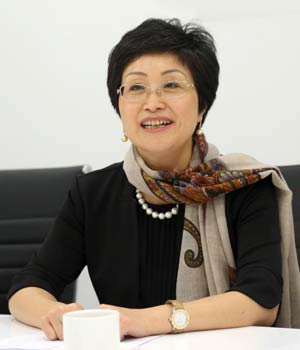 Yang Meihong, vice-president of Volkswagen Group China.
German automaker Volkswagen is championing the use of child safety seats in the world's largest auto market with desirable results, said one of the company's senior executives.
"The latest news is that legislation is highly likely to be finished and put in place in 2016," said Yang Meihong, vice-president of Volkswagen Group China.
The company started its Child Safety Initiative at the Guangzhou auto show in 2013 and has since been a strong advocate of legislating the use of child safety seats in the country.
Yang, as the senior executive in charge of the company's corporate social responsibility programs, visited 17 major cities this year to raise awareness. VW also donated more than 5,000 child safety seats to local kindergartens, schools and other institutions.
"Those who use child safety seats account for merely 1 percent of the total children in cars as opposed to above 90 percent in Europe and North America. It will take at least eight to 10 years to increase the figure to even 30 percent in China," said Yang.
She said the program had achieved good results so far and that she planned to visit another 100 cities in 2015 to alert people to road safety.
Junior football and vocational education are two other projects that Volkswagen is focusing on in China.
The company finances five junior football teams in China's less-developed regions to boost children's confidence and broaden their horizons.
In March, some of the teams were flown to Berlin to play football in front of President Xi Jinping, who was on a State visit to Germany at the time. To help identify future talent, Volkswagen is also working with the China Sports Foundation and the Chinese Football Association to support youth football camps in the 13 locations where the company has plants.
In October, the company invited star football player and coach Roy Praeger, of VfL Wolfsburg, to hold training sessions for about 400 children in Beijing, Shanghai and Changchun, the capital of Northeast China's Jilin province.
Yang said Volkswagen is also helping boost vocational education in China.
She said the company is working with 25 vocational schools in the country by offering them textbooks and helping prepare the curriculum. Volkswagen donated advanced engines and transmissions to some vocational schools so students can equip themselves with the latest technology.
"In the past, good students would not go to vocational schools and good teachers would not work there either. But things are changing now as college graduates find it hard to get a job, while it is easy for those from vocational schools to get employed," said Yang.
In addition to its nationwide programs, Volkswagen established a volunteer program to encourage its own staff to offer a helping hand to those in need.
One of the latest examples was that Yang and another 30 Volkswagen employees bought and installed heaters for all 36 classrooms at Beijing Mingyuan School, one of the first schools established for children of migrant workers in the capital. Yang said volunteers also helped install water purification systems and sanitation facilities at schools in earthquake-hit regions in Yunnan province.