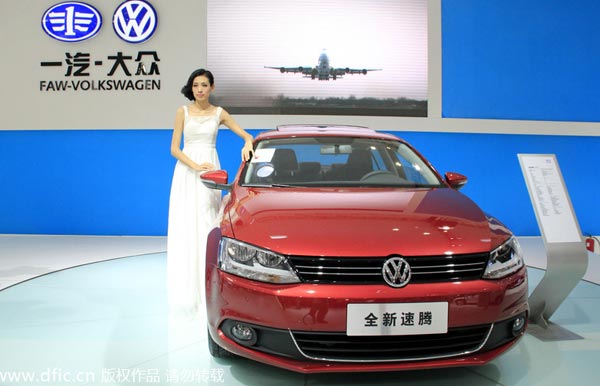 A model poses with a New Sagitar of FAW-Volkswagen during an auto show in Haikou city, South China's Hainan province, 13 July 2012. [Photo / dfic.cn]
Volkswagen Group China president and CEO Jochem Heizmann said the Sagitar sedan is a safe car with a safe axle, at a media event in Shanghai on Tuesday.
Heizmann reiterated that Volkswagen offers free inspection and modification of the axle using metal plates. After Chinese consumers raised concerns, the carmaker extended the axle warranty to 10 years, according to a US media report.
Weiming Soh, executive vice-president of Volkswagen Group China, said on Oct 24 that there is no defect in the rear torsion crane axle in the recalled sedans.
A spokesman for Volkswagen said the safety problem occurred when a car was involved in a rear-end collision. The axle was damaged but the driver did not notice it. An investigation launched by the company discovered that the torsion crank broke after the driver continued to drive it without getting it repaired.
But Chinese consumers do not appear to be satisfied with the modification proposal and have asked for the axle to be fully replaced.
The recall announcement on Sino-Germany carmaker's website Faw-vw.com said in case the suspension bends more than 2 millimeters, a dealer will replace it with a new one, free of charge.
The earlier Sagitar models involved in the rear axle issue use coupling type rear suspension.
The latest VW 2014 New Sagitar does not appear to face the same issue so far. The new model now equips multi-link independent rear suspension, the same as the New Jetta model in North America and Europe.
But it seems the problem has hurt the sales of 2014 New Sagitar, although not significantly.
A Volkswagen 4S dealership salesman in Langfang city, Hebei province, said the monthly sales of the model dropped to about 40 units a month from 60.
The entire sales volume of the Volkswagen 4S dealership also fell in September and October, their golden period every year. He added that the number of visitors to their showroom declined after the carmaker announced the recall.
The automaker will recall 581,090 New Sagitar and Beetle vehicles in its biggest market to fix metal plates to the rear torsion crank axle for modification, which will stabilize the vehicles and emit warning in case of cracks, it announced this month.
China's quality inspector launched an investigation into potential defects of FAW-Volkswagen Automobile Co's New Sagitar sedan in August.
The Sino-German joint venture FAW-VW's contact person in charge of public relationship was not available for immediate response.