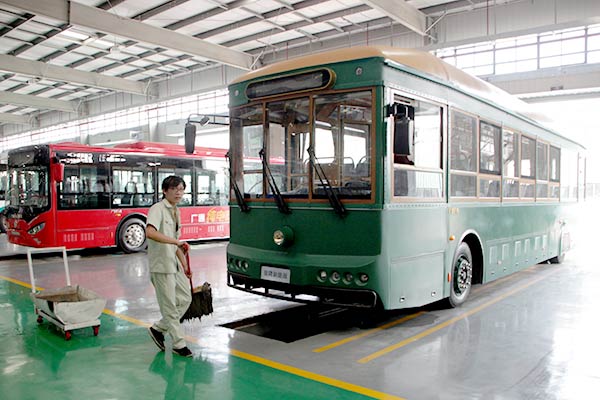 A worker helps get electric buses ready for delivery to Beijing, which now has Yinlong vehicles in operation for sight-seeing around the Forbidden City. [ZOU ZHONGPIN/CHINA DAILY]
The acquisition of US battery company Altair Nanotechnologies Inc in 2011 has proved a valuable investment for Zhuhai Yinlong Energy Co as the technology gives it a foothold in the promising new-energy vehicle market.
With 3.3 billion yuan ($538 million) invested, the company based in Zhuhai, Guangdong province looks to benefit from growth spurred by government policies, said Ao Jianhua, deputy president of the company.
The policies include a sales tax exemption on new-energy vehicles starting Sept 1 and the use of such vehicles in government fleets.
More cities have their own plans for new-energy vehicles, giving local subsidies on purchases in addition to those offered by the central government.
The company said its nano-structured lithium-titanate battery leads its main competitor in safety, lifecycle and charging time, although further research is needed for it to catch up in energy density.
Founded in 2005, Yinlong bought a company in Zhuhai in 2010 to boost its capacity in electric systems and acquired an automaker in the city in 2012 to step up its qualification for car production.
After providing 20 electric buses to a Zhuhai bus operator in 2010, the company expects to sell more than 2,000 buses this year, including 1,300 in Hebei province, which is fighting hard against smoggy air, and 500 in Zhuhai. It estimates that sales should exceed 3,000 buses next year.
Twelve electric buses made by Yinlong, with eye-catching exteriors started to run a route surrounding the Forbidden City in Beijing late last month.
The business model of leasing electric buses is essential in grabbing local markets by bypassing rules requiring local production, he said.
The company's plants in Hebei also help with sales and it also runs a plant in Anhui province.
After huge investments in technology, Yinlong will see its capital pressure lighten in the first half of next year, when it plans to list on Hong Kong's stock exchange, and then list in Shanghai or Shenzhen in the second half, according to Ao.
The company aims to lift its annual output of electric vehicles to 50,000 units by 2017 and 500,000 by 2022.
It is also developing taxis and sport utility vehicles, and is in talks with some major manufacturers on strategic cooperation.
It has sold a few buses that were re-branded in foreign markets with domestic production requirements for electric vehicles and expects exports to generate more than 20 percent of its revenue in the future.
Another application of its battery technology to drive up its sales will be energy storage, a sector expected to take off in three to five years, Ao said.
The annual value of all its products is projected to reach 100 billion yuan ($16 billion) by 2022, he said.
Shen Hongwen, a researcher with CI Consulting, said the sector is poised for growth with heightened support from the central government and an active approach from local governments in working out support policies.
Shen suggested that the government work out measures to support domestic manufacturers by prioritizing local products in procurement of public vehicles and buses.
As well, cooperation should be encouraged between manufacturers, universities and research institutions to lift core competitiveness and control over the industrial chain, Shen said.