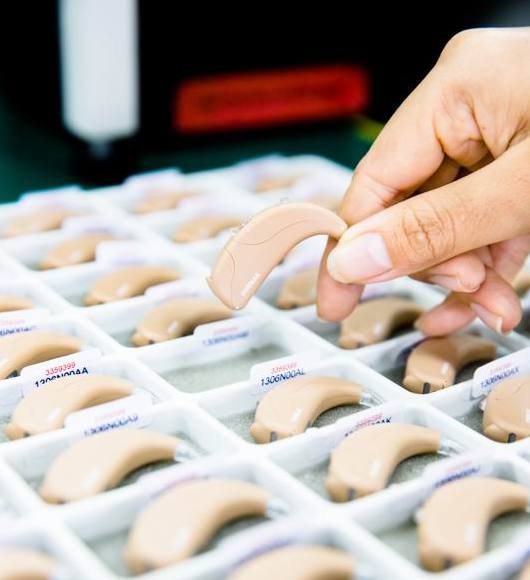 Hearing aids shown at a Sonova operation center in Ho Chi Minh City, Vietnam in early 2013. [Photo/Provided to chinadaily.com.cn]
China is already a major market for medical and health products, but for international hearing care devices providers, it remains a minor player as its public awareness of hearing loss and aid is yet to improve, industry professionals said.
The country has about 150 million people suffering from varied degrees of hearing handicap. But it lags far behind the developed markets in terms of the proportion of people who undergo hearing correction to those that suffer from hearing impairments. It is only about 5 percent in China, compared with 20-25 percent on average in the mature markets in Europe and North America.
The low penetration level means great market potentials for international hearing care services providers, such as Switzerland-based Sonova Group, a major player in the China market.
"China has the largest number of people with hearing loss globally," said Albert Lim, vice-president wholesale of Asia-Pacific, Sonova Group, the world's largest hearing care services provider. "China now is the second largest market for Sonova in the Asia-Pacific. The region accounts for about 11 percent of all the company's revenues."
Although China is still a small market for the company, the fast ageing of the Chinese population means Sonova can play a significant role in helping local people with hearing handicap in the coming decades as the old people are prone to hearing disorders.
According to results of China's population census in 2010, people aged 60 and above account for 13.26 percent of the overall population, marking that China has become an aged society. By the end of 2013, those aged above 60 and more are estimated to have reached 14.9 percent, or about 200 million.
Given the different hearing environments for example, the Chinese and Western languages sound very differently and it is often more noisy in some public areas in China than in the developed markets, hearing aid companies have to tailor their products to meet local needs, in which Sonova said it can excel.
"In China, we continue to strive for developing the product tailored for Chinese people with hearing loss to meet their special needs," said Lukas Braunschweiler, CEO of Sonova. "For Sonova, continuous innovation in our daily business is of core importance to us. Our strategy is focused on consistently meeting the needs of our customers."
Lim said: "We devote to increasing the access to hearing care solutions in China through providing made-for-China products to meet people's special needs." Based on direct customer inputs and collaborated hearing professionals both in Switzerland and China, the company has for the first time developed hearing aids to cater to the special needs of the Chinese customers. The products were launched in China in June, Lim said.
Quality products alone, however, are not enough as China also lacks enough high-calibre professionals in the field. It requires the country to pool various resources to expand professional training programs.
China only has four colleges that provide bachelor programs in audiology studies. There are only less than 10,000 trained hearing care professionals nationwide to serve the vast number of people suffering from hearing problems, experts said.
In April, Sonova inked an agreement with the China Rehabilitation Research Center for Deaf Children to help organize programs training hearing care professionals.