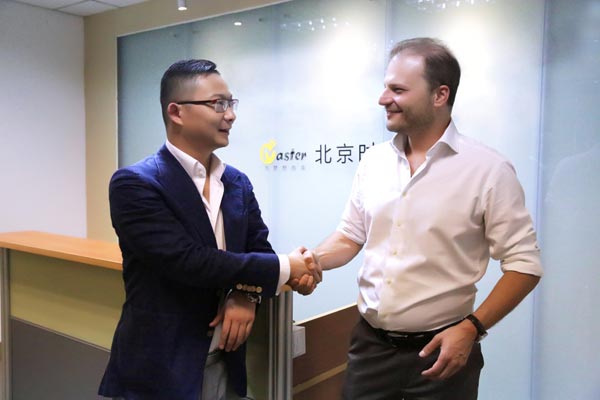 Silverwater Capital founder Greg Dimitriou said the app is the first in the mobile-enabled skill and hobby learning market in China, bridges online with offline user-experiences. [Photo / provided to Chinadaily.com.cn]
Want to take up an interesting hobby? Revolutionary new mobile Internet platform for O2O learning is about to launch in China
Meet MASTER – a new mobile app for the Chinese market that combines learning with social media
People have a great interest in learning new skills and hobbies. When searching for places to learn new hobbies they have to rely on word of mouth, and Internet search, which often provides out-of-date information and lacks user reviews. They are also interested in engaging with online community where they can share their experiences and motivate fellow users. The solution? Welcome to MASTER, Jackie Zhang's mobile Internet-enabled education platform.
Established in 2013, it is expected to launch later this year with an app, available on iOS and Android smartphones. However, it has already attracted foreign investment interest.
"We first learned about MASTER six months ago. Then, after three months of regular conference calls and a week-long visit to the company in Shanghai, we decided to get involved with MASTER and not only invest to but also to help it grow faster. It is the first in the mobile-enabled skill and hobby learning market in China, bridges online with offline user-experiences ("O2O"), and it is very professionally managed. The management team has a lot of relevant experience in this business. We like that," said Silverwater Capital founder, Greg Dimitriou, in an interview with reporters.
Dimitriou, who has previously worked with Deutsche Bank and JP Morgan's Media Investment Banking teams in New York, Hong Kong and London for 12 years, has completed more than 20 M&A deals, worth more than $60 billion as well as numerous capital raisings, totaling more than $100 billion. He recently set up Silverwater Capital in Berlin, which works with companies such as MASTER as an angel investor and consultant, globally.
Innovative features
"MASTER'S app is very simple to use. On their smartphone, users can select the hobby category they want to engage in, select MASTERS to learn from and, within the app, communicate with them before and after the course, share their experiences with fellow learners, etc. We wanted to make the app very simple to use with a cool and modern design. We think we can help people discover fascinating activities, learn new things and engage with other learners. Social media is an important element of MASTER," said Jackie.
"MASTER also features a location-based search function that allows a user to filter courses by the vicinity to their own location, which is very useful," added Dimitriou.
According to him, there is an emerging middle-class of urban professionals in China that MASTER will attract. Initially, there will be 20 categories for users to select from such as beauty, cooking, photography, sports, etc.
Jackie has already signed up more than 100 partners such as the Shanghai Snooker Association to exclusive agreements for offering attractive courses on the platform. The target for next year is 5,000 coaches and 20,000 once the app goes nationwide.
Dimitriou believes MASTER is an attractive platform not only for learners and coaches but eventually for big data applications that utilize the information on consumer behavior generated on the platform.
"Everybody talks about big data. MASTER has the potential to become a national platform, a barometer, for what activities people like to engage in their spare time. That's valuable information, and once it has established a critical mass of loyal users, it will be extremely difficult to copy", Dimitriou said.
An investment round of financing will allow MASTER to grow and beef up its operations in Beijing and Shanghai, the two initial launch markets. Jackie ultimately has bigger plans, though, which is to offer courses across China.
"We'll probably need to raise a little more money for that", said Dimitriou.