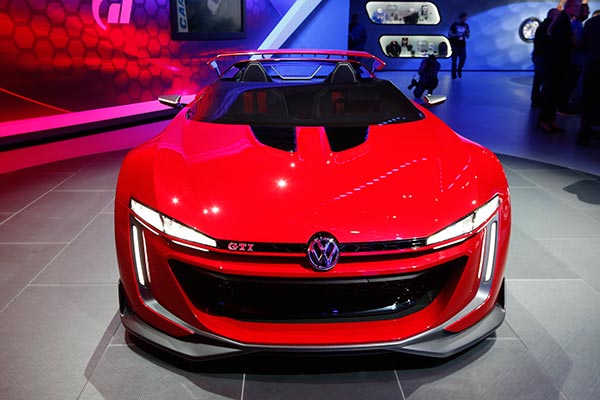 The Volkswagen GTI Roadster concept car on show at the Los Angeles Auto Show in California, Nov 19, 2014. [Photo / Agencies]
With the theme "Moving People, Moving Forward", Volkswagen is showcasing a star lineup featuring 35 models at the ongoing Guangzhou auto show to demonstrate its efficient, eco-friendly and sustainable technologies and products.
"China is Volkswagen Group's largest single market. From January to October our sales exceeded 2.3 million units, up 13.8 percent year-on-year," said Weiming Soh, executive vice-president of Volkswagen AG and member of the Board of Management as well as executive vice-president of Volkswagen Group China.
"Customer needs and satisfaction are always the driving force for us to move forward. Volkswagen creates tailor-made models for young consumers as part of its commitment to providing sustainable mobility to shape an environmentally friendly future," said Soh.
Electric up!
One of the Volkswagen highlights at the show was the launch of the electric up! in China by Volkswagen Import.
The company says the "zero fuel consumption", "zero emissions" and "zero noise" car is aimed at drivers who are future-oriented and demonstrates Volkswagen's commitment to sustainability and environmental protection.
The electric up! is powered by a 60 kW e-motor producing 210 Nm in torque that consumes 12.1 kWh/100km on average. The lithium-ion battery and power electronics are integrated into the floor. It has a range of 157 kilometers and a top speed of 130 km/h, which will meet the everyday needs of most urban drivers.
The model also features a futuristic aerodynamically optimized e-design bearing the classic blue logo, with signature C-shape LED daytime running lights with 15-inch alloy wheels.
Lamando
Produced by Shanghai Volkswagen especially and only for China, the all-new mid-sized coup, the Lamando, is another head-turner at the show, where presales orders have already started.
With its sporty and dynamic exterior, robust powertrain, simple yet refined interior and future-oriented intelligent technology, the Lamando sets a new design standard for its segment, the company said.
The widened and lower front displays the uniqueness of the car as a wide coup, while the sweeping waistlines give it a slim and sleek appearance that is given additional elegance and attractiveness by its voluptuous rear.