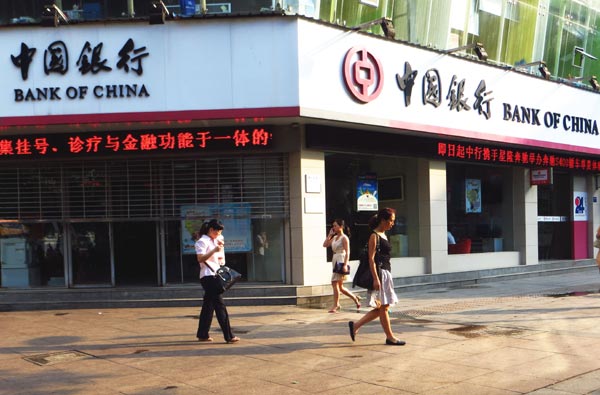 An outlet of Bank of China in Yichang, Hubei province. Banks should ensure that their assets and liabilities are properly matched ahead of any sudden exchange rate movements. [Photo/China Daily]
Benefits of liberalization to outweigh fears of flight, currency speculation
The risks of a complete liberalization of China's capital account are manageable as long as the country carries through with financial reform, experts said.
The nation's tight controls on capital outflows prevent domestic investors from diversifying abroad. Meanwhile, cash is flowing in from exports, driving up foreign reserves.
All that liquidity has nowhere to go but into the lackluster stock market and the overheated real estate industry.
Many fear that the risks of full capital account liberalization, which entails a fully market-driven exchange rate and unfettered cross-border capital flows, outweigh the benefits.
For instance, during the Asian financial crisis in 1997-98, Thailand and South Korea - which had liberalized their capital accounts - experienced massive capital flight.
However, others believe that China faces a lower risk of volatile capital flows.
"The large problems that resulted in capital flight in the 1990s were mainly due to an excessive reliance on foreign credit," said Francis Cheung, head of China and Hong Kong strategy at investment bank CLSA.
"As capital outflows accelerated, foreign credit dried up, resulting in a domestic credit crunch. Foreign debt is equivalent to only 10 percent of China's GDP and is relatively small. Therefore, this is less of a risk for China."
Eiichi Sekine, Beijing chief representative of the Nomura Institute of Capital Markets Research, said: "During the crisis in Thailand, its financial reforms were not carried through when it opened the doors to volatile short-term foreign investment.
"The exchange rate was fixed, which resulted in inflation at home, the depreciation of the local currency and eventually, capital flight. China, on the other hand, has a very strong and stable economy. The country's rise in the past few decades mostly relied on domestic growth."
Another concern about full capital account liberalization is that the yuan would be manipulated by speculators. Cheng Guanlei, an analyst at Hongyuan Securities Co Ltd, wrote in a report that the proportion of yuan settlement in trade is significantly lower than settlement in the currencies of industrialized countries.
Foreign investors hold the Chinese currency because they believe it will appreciate further. Only when Chinese enterprises have grown strong enough to support yuan settlement as a matter of course, and the currency is used overseas for transactions instead of speculation, will full capital account liberalization be a net gain for China.
However, in Cheung's view, arbitrage activity in the yuan is not a major obstacle to capital account liberalization.
"As more and more trade transactions are settled in the yuan, it becomes more of a necessity to open up the capital account. Opening the capital account will help accurately price the exchange rate and domestic interest rates, and that will maintain a balanced economy to manage inflation and growth," he said.