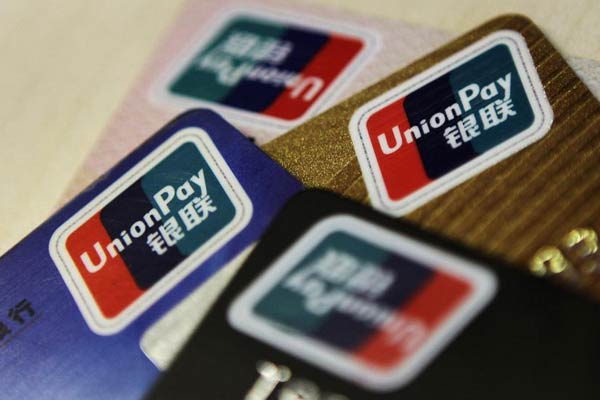 Logos of China UnionPay are seen on bank cards in this file photo illustration taken in Beijing Dec 5, 2013.  [Photo/Agencies]
UnionPay International released in Shanghai on Tuesday a list of 40 core business and retail districts favored by Chinese consumers, showing that South Korea and the United States are among the fastest-growing markets for outbound travelers.
The global bank-card company, a subsidiary of UnionPay Co Ltd, whose activities include cross-border transactions, said it has monitored Chinese consumers' preferences based on worldwide data.
The payment services provider said travel destinations of Chinese consumers have been expanded from the traditionally popular Southeast and East Asia to a much wider area that includes North Asia, North America and the Middle East.
Chinese consumers also are willing to spend more on fine dining and hotels, according to the UnionPay International report.
Among the 40 shopping districts on the UnionPay list, six are in South Korea and seven in the US.
"We observed that the consumption habits of our members are becoming increasingly diverse, and cardholders are showing greater interest in experiencing and exploring local cultures," said Cai Jianbo, CEO of UnionPay International.
Chinese consumers' surging purchasing power has boosted transactions in these shopping areas.
For example, transactions by Chinese cardholders jumped 280 percent compared with those of three years ago at the upscale South Coast Plaza shopping mall in Costa Mesa, California.
Other shopping areas reported 100 percent compound annual growth rates of transactions made by Chinese consumers in the past 12 months.
On average, it was estimated that transactions by Chinese consumers and UnionPay cardholders jumped 30 percent in the first six months of 2014 over the same period a year earlier in these core markets.
The latest report, based on joint research by UnionPay International and the China Travel Service's Head Office, said that the compound annual growth rates in spending on hotels was close to 40 percent over the past three years.
Chinese consumers also are willing to pay more on food when they travel abroad. The compound annual growth rates of outbound travelers' spending on dining was about 65 percent between 2010 and 2013.
Spending on car rental fees, resorts and such outdoor activities as skydiving also rose, the UnionPay International said.
In 2013, more than 97 million trips were taken overseas by Chinese tourists, with $102 billion spent, according to data from the China National Tourism Administration.