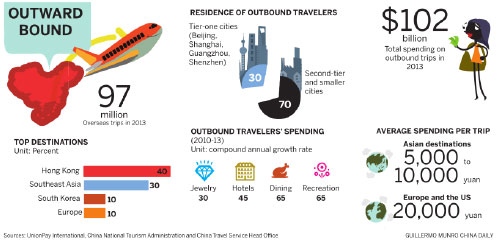 Chinese consumers' spending on dining, hotels and entertainment has surged more than 60 percent in the past three years because of increased overseas travel, a report said on Wednesday.
UnionPay International, a unit of China UnionPay Co Ltd whose activities include cross-border transactions, surveyed Chinese consumers in more than 140 countries and regions. The research showed the compound annual growth rate of Chinese consumers' spending on dining in the past year was more than 65 percent, while the CAGR of entertainment spending was more than 60 percent.
"Chinese consumers are spending beyond duty-free stores and international luxury brands," said Cai Huiming, an analyst with UnionPay International. "They are also shopping for groceries, snacks, cosmetics and toys in local shopping malls and grocery stores. It's a sign that Chinese consumers stay longer and delve deeper into local lifestyles than ever before when they travel overseas."
Cai said the data reflect shifting trends of Chinese consumers' behavior and favored touring patterns.
Luxury brands remain a major purchase for Chinese consumers overseas, the UnionPay report said. Spending on other items is increasing, such as on concert and show tickets, sports activities, surfing, scuba diving, sky diving, horse racing, hiking and car rentals.
The CAGR of spending on hotels was around 40 percent in the past three years, the report said.
Chinese consumers are more willing to travel far and wide. In 2013, there were 97 million trips overseas by Chinese with spending of $102 billion, according to data from the China National Tourism Administration.
The number of overseas trips made by Chinese is expected to grow about 15 percent to more than 110 million in 2014, according to the CNTA.
Visits to Norway, Iceland, Greece, Nepal and Fiji had a CAGR of up to 200 percent in the past three years, reflecting a growing interest and passion for going off the beaten path.
Visitors to Italy, Canada and Mauritius have more than doubled compared with three years ago, Cai said.
"Consumers are no longer satisfied with having a quick look at the destination and moving on to another place the next day," said Feng Yun, marketing director of Shanghai-based China Travel Service Head Office.
The old-fashioned 12-day, five-country package accounts for less of the market than before, and an increasing number of tourists are taking backpack tours, bringing more diversity to the tourism, hospitality and retailing markets, Feng said.