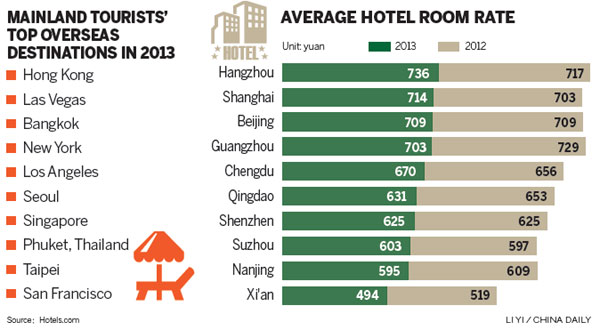 Chinese travelers were on the top 10 list of those who paid the most for accommodation outside their own country, according to an industry report.
Outbound visitors from China ranked No 8 spending an average of 1,031 yuan ($166) for a hotel night abroad, according to the Hotel Price Index, a regular report on hotel rates in major destinations across the world released by Hotels.com. The report is based on bookings made on the site, and rates shown are those actually paid by customers per room per night, rather than advertised rates.
The index shows Chinese travelers spent more in more than half of the international destinations included in the report.
Travelers from Switzerland once again paid the most when traveling outside their own borders, with an average of 1,120 yuan per room night followed by the Argentineans at 1,089 yuan, making them the highest-paying Latin American nation. Travelers from the United States came third, paying an average room rate of 1,067 yuan.
Chinese globetrotters in 2013 chose Asia and the United States as their favorite destinations, with Europe coming third, according to the report.
Hong Kong maintained its position among the most popular destinations in Asia, but Taipei was the highest riser, up four places to ninth, according to the report.
According to the China Tourism Academy, China became the world's largest outbound tourism market during 2012. It expects Chinese citizens will make more than 100 million trips overseas for the first time during the period from July 2013 to June 2014.
China, which also became the largest outbound market in 2012 in terms of spending, with an expenditure of $102 billion, saw an increase of 28 percent in the first three quarters of 2013.
Don't miss: