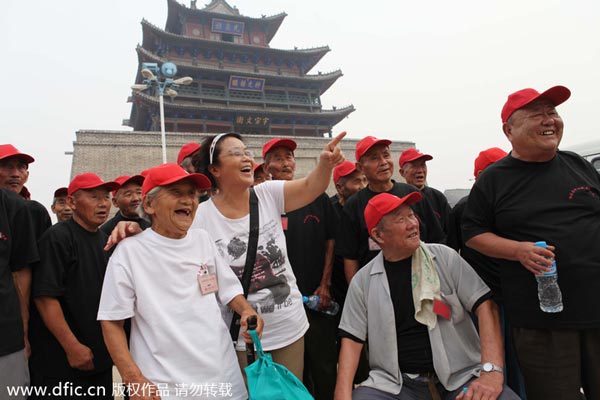 Seniors admiring the scenery in Liaocheng city, 2012 Aug 26.[Photo/icpress.cn]
If you still believe that backpacking is only for young people, let's prove you wrong. Many senior citizens also are passionate about travelling and the Spring Festival holiday is a peak time for people to travel with their parents. And in China, it's not the only time seniors like to travel.
What would you like to do when you retire? Well, you could exercise in parks like this in the morning, then go buy vegetables and take care of your grandchildren. But there's also a group of seniors that makes full use of their free time to go see the world. In Chinese, people use the expression "redness in the sunset" to describe these people.
Age can't truly stop one from being adventurous. A few years ago, a sixty-something Chinese couple backpacked around the world and became immensely popular online. The couple posted their photos on the Internet along the way. When people saw the South Pole, the Himalaya mountains and other world-famous places through the couple's camera lens, many jumped to the conclusion that,one is never too old to travel.
World maps used to be nothing but a decoration at home for most Chinese senior citizens. But after China's opening up and with improvements in living standards, senior citizens now can actually make their maps come to life by travelling to their favourite places. Yu Ningning is president of China's largest travel agency and she has a strong personal will to travel after retirement.
"Now services for elder tourists takes about 10% of our business, but for middle-aged and elder tourists takes about 50%. The large percentage that middle aged takes up makes us believe that the market for elder tourists will become more important in the future." Ms Yu Ningning, President of China Int'l Travel Service said.
But according to China's consumer's association, spending on tourism takes a very small part in seniors daily expenses. And only less than half of China's seniors have actually travelled after retiring. Among those that have travelled, 87.9 percent went with travel agencies. Around 46.3 percent of the seniors went with their children or friends while 41.6 percent went with groups organized by travel agencies.
"The market for tourism for elder has a lot of potential. but now it has some problems. Seniors are easy to be attracted by false advertisements, as well as slogans of some agencies. They are also physically weaker than other groups, which means travel agencies should have higher service standard for them." Prof. Liu Junhai, Sch. of Las of Renmin Univ. said.
"Some travel agencies in other Asian countries can serve as examples. When they plan a tour for seniors, they live with them for some time, figure out what they truly need in their daily lives, what they really want to see..so that the service they offer during the tour is very considerable. They really put their hearts into the service. This is going to be long term trend for tourism for elders. I know in Beijing there's a farm house that has already started to explore this business mode." Prof. Wang Qiao, Inst. of Population and Labor Economics, China Academy of Social Sciences said.
The farm house that the professor mentioned sits on the outskirts of Beijing. Winter is extremely harsh in the mountains, so the house is closed until next spring. But we managed to find the owner, who has been running the place for the past two years.
In spring and summer we send shuttle bus to different places in the city to pick up the elders. They can stay here during the week with their friends or make new friends here, and their children will drive them home on weekends. We sometimes even receive guests on wheelchairs. We offer discounts to seniors that stay here. Our customers are also our advertisements.
Agencies and experts are gaining confidence about tourism for seniors. Middle-aged people might pay more attention to travel after retirement than their parents did. But think about it, besides commercial profits, it's also a good thing that our parents and grandparents no longer have to endlessly save money just to save money. Now, they can actually use some of their funds to explore, enjoy adventures and be happy.