The tourism administration in Wuxi, Jiangsu province, has suggested 10 routes for visitors who want to enjoy the city's charm during the upcoming Spring Festival.
According to the 2013 Blue Book of City Competitiveness by the Chinese Academy of Social Sciences, Wuxi is the most livable city on the mainland and the third-most livable in China, behind Hong Kong and Macao.
Located in the Yangtze Delta, one of China's most economically developed regions, Wuxi borders Suzhou to the east and is about a 45-minute train ride from Shanghai.
The 10 routes include both natural and historical scenery in the 3,500-year-old city, which is divided by Taihu Lake, the second-largest fresh water lake in the country with an area of 2,445 sq km.
While Taihu Lake embraces half a dozen cities in Jiangsu and Zhejiang provinces, Wuxi is the only one that comes up when Chinese people talk about amazing lakeside views. A visit to the city's top attraction, Turtlehead Park, named for the shape of the peninsula, is highly recommended by the tourism administration.
One of the 10 routes is a three-day Buddhism journey to Lingshan. Unlike other Buddhist sites where tourists simply visit temples, Lingshan's scenic route has the best of both old tradition and new technology.
"I could not believe my eyes when I first saw the dome of Fangong, the Buddhist palace in Lingshan," said Gu Yuan, a resident of Xishan district. "The only word that lingered in my mind was 'magnificence'. I was stunned and speechless with its opulence."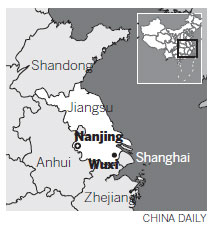 Next to Fangong is the world's ninth-tallest statue. The 88-meter-tall Buddha, unveiled in 1997, is also the tallest Buddha statue in East China.
High technology in design enables the standing Buddha to withstand magnitude-8 earthquake.
"Lingshan is the most popular tourist attraction in terms of revenue in Jiangsu province," said Sun Lijun, a worker from the administration's tourism promotion department. "An international tourist island will be built around Lingshan, including Buddhist-theme towns and cultural parks. By 2015, the island should be able to receive 7.5 million tourists a year."
According to the local tourism administration, 36 billion yuan ($5.95 billion) will be invested to establish a grand theme park that will be Disneyland-like in size.
The administration also highlights a two-day travel for city-dwellers to explore ancient cultures and experience the tranquil life of the slow-paced and time-honored villages.
Tourists may expect to visit 57 ancestral halls and the China Clay Figurine Museum and enjoy famous sites along the route.
"Even in a country full of delicious food, Wuxi's pork rib in sweet and sour sauce is a delicacy that is famous nationwide," Gu said. "The white shrimp, white fish and silver fish, a boneless transparent fish, are three specialties known for their delicate taste.
"The city is a place you should never miss," Gu said.