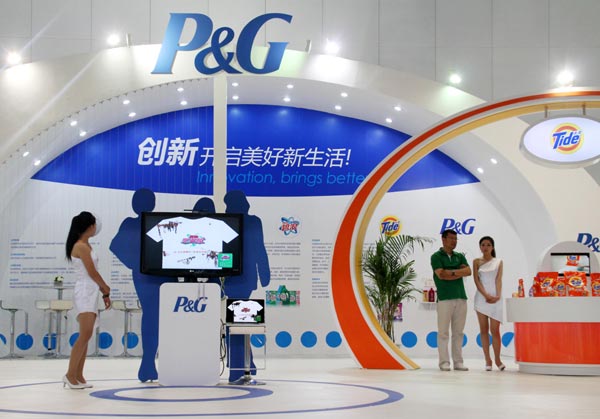 A Procter & Gamble display at an international exhibition in Beijing. A recent research report concludes that growth of China's fast-moving consumer goods sector is slowing down and that foreign brands are facing fierce competition from local players. [Photo/China Daily]
Less is more for Procter & Gamble, the world's largest consumer product company, which has plans to dump about 90 of its smaller and less popular brands.
The move should help the company consolidate its resources to concentrate on making its existing brands even stronger in the Chinese market, analysts said.
Procter & Gamble CEO A.G. Lafley said on Friday that the maker of Pampers diapers, Crest toothpaste and Tide detergent will sell or exit 90 to 100 mostly minor brands in an attempt to refocus the business behind its 70 to 80 remaining best-selling brands.
"Details of the final global brand portfolio are yet to be announced. I can't tell you what is included in the 70-to-80-brand portfolio, but I can tell you that each brand we plan to keep is strategic, with potential to grow," said Liang Yun, director of external relationships for P&G China Ltd.
"These 70 to 80 brands are leaders in their industry, category or segment, and are preferred by consumers and supported by retail customers. We currently market more than 20 brands in China that are leaders or have leadership potential. China has a lot of room for growth and value creation in the future," she said in an e-mail to China Daily.
P&G said those "core" brands have accounted for 90 percent of sales and more than 95 percent of profit over the past three years.
Twenty-three of the brands have recorded sales of between $1 billion and $10 billion.
A senior executive at P&G China said the plan will not affect existing brands in China as most of the disfavored brands are smaller ones that have not yet been introduced to the country. He said it is positive news for the company to focus on its strong brands and make them even better.
But he said the news has caused concern among employees who have worked at the smaller brands. A previous acquisition resulted in the shifting of jobs to the new owners, he said.
P&G reported in fiscal year 2014 that net sales increased 1 percent to $83.1 billion. Its fourth quarter net sales were $20.2 billion, a decrease of 1 percent year-on-year.
The latest move should allow P&G to invest in adequately supporting its stronger brands, said Jason Yu, general manager of Kantar Worldpanel China.
"Too many brands can result in ineffective advertising, shopper confusion and high distribution cost," said Yu.
The underperformance of consumer brands is an industry struggle. A recent Kantar Worldpanel report reveals deceleration in the growth of China's fast-moving consumer goods sector and that foreign brands have faced fierce competition from local players.
Growth in the coming five to 10 years will come primarily from share gains in mature categories like shampoo and laundry detergent, and it is imperative to focus on building brands that matter to Chinese shoppers, according to the report.