Premier Li Keqiang regularly hosts forums at the "First Conference Room" in Zhongnanhai, the headquarters of the Chinese government in downtown Beijing, which allows him to meet Chinese entrepreneurs, scholars, and grass-roots representatives.
Central government leaders carry out many of their administrative activities in Zhongnanhai, which is often used to mean the Chinese leadership - in the same way that "White House" refers to the President of the United States and his administration, and "No.10" and "Downing Street" are sometimes used to refer to No.10 Downing Street in London, the British Prime Minister's office.
An increasing number of entrepreneurs have attended such forums since 2013. Additionally, entrepreneurs in new industries, such as Internet and E-commerce, have also taken part.
Let's take a look at some of the big wigs of China's private companies who have been invited into Zhongnanhai since Li took helm of the State Council.
Zhang Chaoyang
Position: CEO of Sohu.com Inc
Meeting Date: July 14, 2014
As the investor and founder, chairman and current CEO of Sohu.com Inc, Zhang has made the Nasdaq-listed company one of China's most popular web portals with operations in online media, search, gaming, community and mobile services. Sohu's total revenue for the first quarter in 2014 rose 19 percent to $365 million. Online advertising was up 51 percent at $175 million.
Zhang suggested at a recent forum that the government should implement lower investment thresholds, toughen penalties for infringements of intellectual property rights (IPR) and tackle the issue of high broadband cost in China.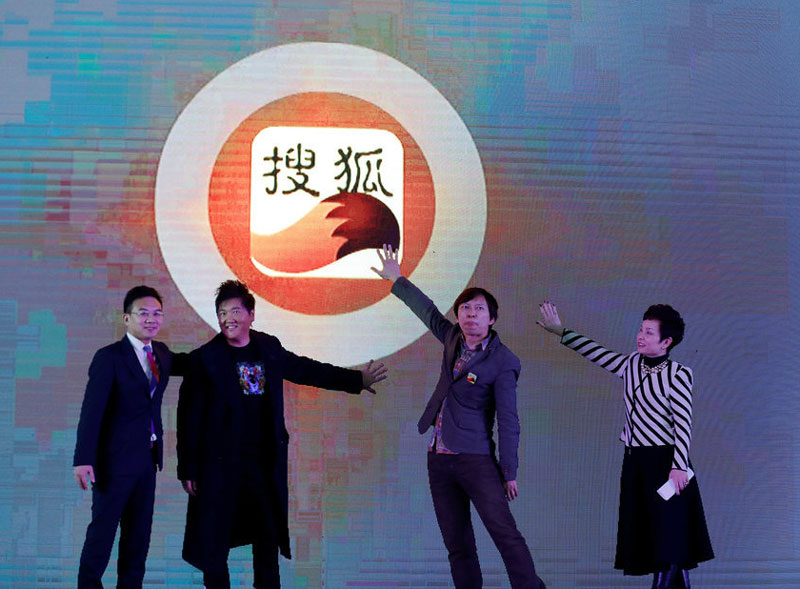 Zhang Chaoyang (second right), president of Sohu.com Inc, and celebrities make a presentation. [Photo/CFP]