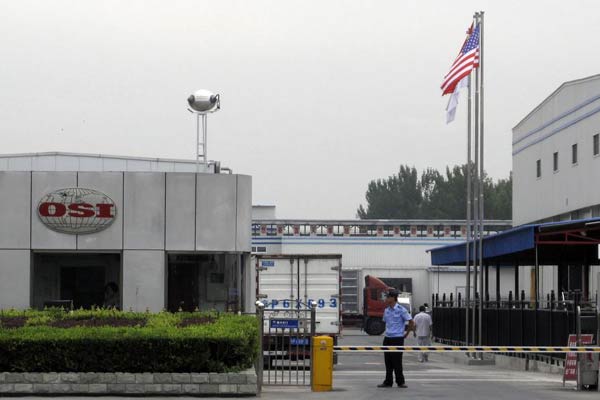 A security personnel stands guard in front of an OSI's food processing plants in Langfang, Hebei province, July 23, 2014. [Photo/Agencies]
SHANGHAI - Chinese food and industry watchdogs on Monday jointly launched a probe into OSI (China) Holding Co Ltd, the investor of scandal-saddled Shanghai Husi Food Co Ltd.
An investigation team comprising officials from the Shanghai Food and Drug Administration and the Shanghai Industry and Commerce Administration entered OSI (China) and demanded it provide documents and cooperate with investigators.
Shanghai Husi has been targeted after a local TV station reported on July 20 that it had supplied products tainted with reprocessed expired meat to a string of fast food chains and restaurants across China.
Six senior executives of the firm have been arrested, Shanghai's police chief said on Sunday, while vowing zero tolerance to food safety crimes.
OSI China said in a statement on Monday that it has been cooperating fully with authorities and that it will continue to do so.
KFC-parent Yum Brands Inc has already called a halt to purchases from OSI China.
OSI Group said on July 28 that it would investigate all of its units in China, and build an Asian quality control center in Shanghai.
It has stopped all operations at Shanghai Husi and will investigate current and former senior management. A new management team has been brought to China.