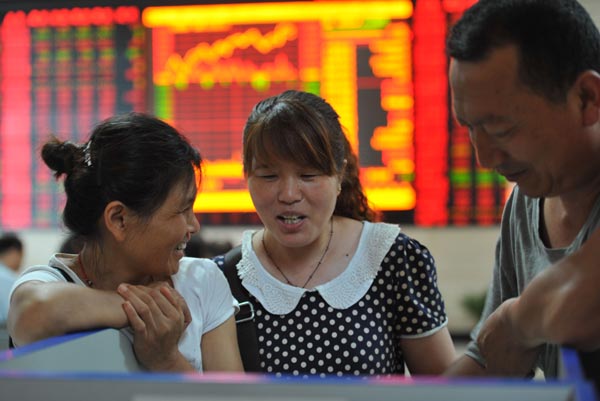 Investors talk about the soaring stock prices at a securities firm in Fuyang, Anhui province. The mainland's stocks rose to an eight-month high on Monday. [Photo/China Daily]
China's stocks rose to an eight-month high, led by financial and commodity shares, on speculation the government is accelerating State-owned enterprise reform and relaxing rules to help brokerages free up capital for expansion.
China Everbright Bank Co gained 4.5 percent and Everbright Securities Co climbed 3.3 percent on plans for their parent company to become a joint stock company. CITIC Securities Co and Haitong Securities Co, the largest listed brokerages, soared more than 4 percent. The China Securities Regulatory Commission plans to lower some risk management rules for brokerages, the China Securities Journal reported.
The newspaper said that the net capital-net assets ratio requirement may be cut to 20 percent from 40 percent. It didn't cite any sources.
Aluminum Corp of China Ltd, known as Chalco, and China Shenhua Energy Co led rallies for metal and coal producers.
The Shanghai Composite Index rose 1.7 percent to close at 2,223.33 points, the highest level since Dec 10, while the CSI 300 Index advanced 2 percent. China plans to revamp the ownership of China Everbright Group Ltd in the latest shake-up of SOEs. Party leaders have pledged to give markets a "decisive" role in the world's second-biggest economy.
"Everbright is one good example of SOE reform taking place and any news about speeding up of these reforms will boost the market," said Mao Sheng, an analyst for Huaxi Securities Co in Chengdu. "The market is in an upward trend even though we might see the occasional correction."
The Shanghai index has rebounded 12 percent from this year's low in January amid signs of monetary easing, along with accelerated government spending and gains in manufacturing industries. Data last week showed the Purchasing Managers Index rose to 51.7 in July from 51 the previous month, beating the 51.4 estimate of analysts polled by Bloomberg.
China's central bank allowed a bigger-than-estimated surge in new credit in June and has cut reserve requirements for some lenders.
The People's Bank of China warned that the country's credit and money supply have increased rapidly and indicated that it will refrain from broader monetary easing to support growth.
"The total debt level has been rising relatively quickly," the PBOC said in its second-quarter monetary policy report on Friday. "Our existing money supply and credit are already relatively large and their growth is also high."
The services PMI was 54.2 in July, compared with 55.0 in June, the National Bureau of Statistics and China Federation of Logistics and Purchasing said on Sunday. A reading above 50 indicates expansion.
Gauges of material and energy stocks in the CSI 300 jumped 3.1 percent and 2.2 percent, respectively. Shenhua Energy, the biggest coal producer, gained for the ninth time in 10 days, adding 2.6 percent. The stock has rebounded 25 percent from this year's low on March 11.
"On the back of recovering market sentiment, coal stocks have rebounded 20 to 30 percent since recent lows in March but given the fragile fundamentals, we remain cautious in the medium term and still rank Shenhua relatively higher," China International Capital Corp analysts wrote in a note.
Chalco, the biggest aluminum producer, surged 5.6 percent, while Baoshan Iron & Steel Co was up 4.5 percent.
As the Party pledges a bigger role for markets, SOEs such as Everbright are getting ownership makeovers. The Ministry of Finance and Central Huijin Investment Ltd, the sovereign investor that controls China's largest banks, will inject assets in the proposed restructuring of China Everbright Group Ltd, a Beijing company with $420 billion of assets from banking and brokering to tourism.
Bank of Communications Co said last week it is studying plans to deepen its mixed-ownership structure, which may introduce more private and foreign investment into the State-controlled bank.