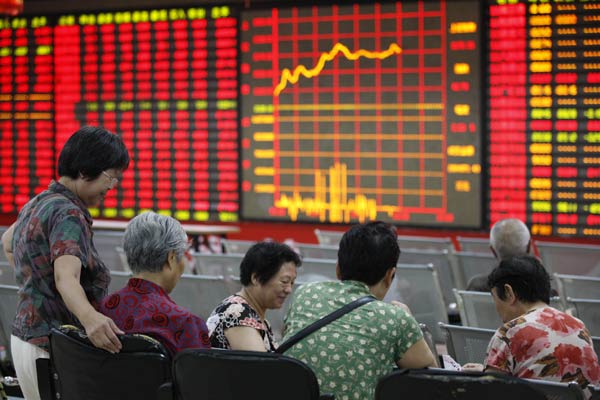 The Shanghai Composite Index closed up 2.4 percent at 2,177.95 points on Monday, its highest finish since Dec 13. Meanwhile, the clock is ticking toward October, when the Hong Kong-Shanghai Stock Connect, commonly known as the through train, is scheduled to launch. XIE ZHENGYI/CHINA DAILY
Two months away from the scheduled Hong Kong-Shanghai Stock Connect, overseas investors are still thinking through their A-share strategy. While some cannot wait to board the "through train", others are holding back, Emma Dai reports from Hong Kong.
"We will take a step-back approach first. A lot of overseas investors, especially foreign clients, would like to watch the stock connect run for a while before putting real money in," said Kelvin Wong, senior equity analyst of Bank Julius Baer, a Swiss private bank.
"We need a clearer picture of how it works," he said. "Details of the through train, such as trade rules and arrangements for dividend tax and capital gains tax, are yet to be decided. It may take longer than planned to launch."
The clock is ticking toward October, when the Hong Kong-Shanghai Stock Connect, commonly known as the through train, is scheduled. Northbound investors will be able to trade up to 568 A-share listed stocks under a net-buy aggregate quota of 300 billion yuan ($48.38 billion) or a daily quota of 13 billion yuan.
According to the latest information from the Hong Kong Stock Exchange, 111 participants have submitted their registration for the through train, accounting for 81 percent of securities market turnover in the city.
"Brokers can conduct system tests now, and market rehearsals are scheduled in late August to September," said the HKEx in a statement to China Daily. However, enthusiasm appears somewhat one-sided, as many overseas investors are still sitting on the fence.
"Through train is a good scheme, but we are worried about potential dark pool information leaking," said Paul Chan, chief investment officer for Asia ex-Japan at Invesco, a wealth management house looking after $802.4 billion in assets.
"According to pre-trade checking rules regarding when to sell A-shares, we have to transfer shares to brokers one day before trading," Chan said. "That generates a huge problem. How can we make sure word does not spread? It happened in the US. If information leaks, all high frequency traders would know by the next day. How can we protect the interests of our clients? We have to fix this first."
In response, HKEx told China Daily a settlement instruction session will be introduced every trade day morning to enable custodians to transfer A-shares, which is expected to shorten the time gap between the transfer of shares and selling transaction.
"We believe custodians and brokers may find the morning session run particularly useful to their institutional clients who may have difficulty meeting regulatory requirements of transferring A-shares to selling brokers one day before trading. We will monitor how it runs and consider if further adjustments would be required," said HKEx, adding at the same time, mainland authorities are aware of and working on the tax matters.