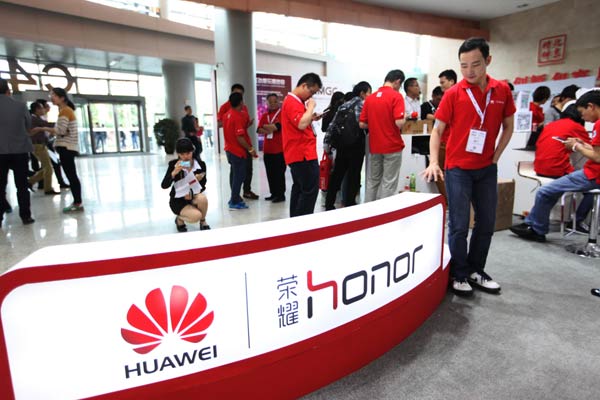 The booth of Huawei Technologies Co Ltd at an Internet conference in Beijing. The Kirin 920 chip of the high-tech giant is regarded as an announcement that the company is increasingly innovative and internationally competitive. CHINA DAILY
As the dust settles on China's high-tech giant Huawei Technologies Co Ltd's latest innovation, a new wonder chip, the Kirin 920, it is important to review the significance of this new product.
In the month since the Kirin 920 was announced, it has certainly captured the attention of the media. The tone generally has been one of admiration and respect for the chip in a market long dominated by the United States in general and US-based Qualcomm Inc in particular.
On a technical level, Huawei's Kirin 920 provides support for QHD displays, 4K video recording and a high-speed LTE category-6 platform. None of Huawei's global competitors, not even Qualcomm, can match this functionality.
Huawei's Kirin 920 announcement also signals that the company as well as other Chinese companies are increasingly innovative and internationally competitive.
Technical innovation is an absolute necessity to remain competitive both domestically and globally, but it is not sufficient by itself.
Huawei needs to match its impressive technical innovation record with equally impressive brand image creativity and innovation.
The high-tech industry, perhaps with Apple Inc as the only exception, is dominated by software and electronic engineering advances and specialists. As a result, brand imaging is often relegated to a "bolt on" added by an outside marketing agency.
Huawei, therefore, can step further ahead of its global rivals by matching its latest Kirin 920 innovation with a brand image overhaul and redesign.
The key to any successful brand image is the set of associations chosen that collectively form a powerful impression in the minds of the brand's target market.
Here, Huawei could demonstrate real innovation and some courage by choosing associations that evoke a powerful Chinese image.
Chinese history, rich in artistic imagery, is full of such associations.
It is important to stress what sort of brand image Huawei should target. Huawei already has an enviable worldwide reputation, for technical excellence and innovation, but high-tech consumers also value a brand that attaches itself to an important aspect of their lifestyle.