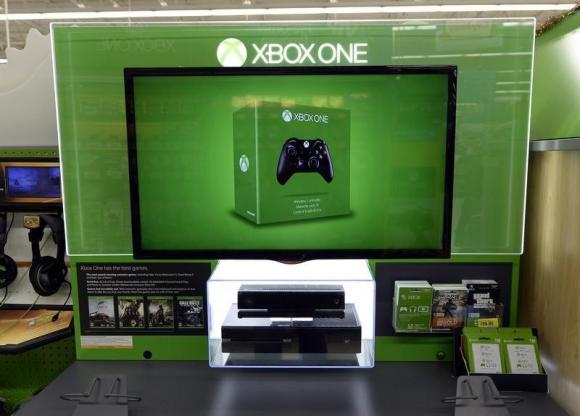 An XBox One is seen on display at the Wal-Mart Supercenter in the Porter Ranch section of Los Angeles November 26, 2013. [Photo/Agencies]
Tencent Holdings Ltd teamed up with online retailer JD.com Inc to take pre-orders for Microsoft Corp's Xbox One on Monday, the first legal sale in 14 years of a major game console on the Chinese mainland.
JD has exclusive rights until Wednesday to presell the locally made Xbox, the company said. The offer, which requires a deposit of 499 yuan ($80), will be available only to those who click through links to the online retailer from the Chinese versions of Tencent's WeChat and QQ mobile-messaging apps. The console is due to start shipping nationwide in September.
Microsoft was the first major console maker to take advantage of a decision by the Chinese government last year to allow sales of the gadgets in the new Shanghai free trade zone. The ban, which the central government instituted in 2000 over concerns about the perceived impact of consoles on children, has allowed online games hosted by Tencent, Asia's largest Internet company, and others to flourish.
Duncan Clark, the
Beijing
-based chairman of BDA China Ltd, which advises technology companies, said Tencent and JD were well positioned to benefit from the policy shift.
"For Xbox, Tencent is the most established games distributor, and, for JD, it is logistics, shipping and quality control," Clark said. "So it makes a lot of sense."
JD spokesman Josh Gartner would neither disclose the number of Xbox Ones the company is selling nor the price.
"Launching Xbox One sales in China through JD's Weixin and Mobile QQ entry points underscores the strength of these platforms with young and sophisticated Chinese consumers," Du Shuang, vice-president of JD, said in the news release, using the Chinese name for Tencent's WeChat.
JD will begin directly accepting pre-orders for the new Xbox through its website and its exhibition booth at the ChinaJoy Expo in Shanghai on Thursday, the company said.
In January, the State Council, China's cabinet, temporarily suspended the game console ban nationwide and announced plans to draft new rules on their sale.
China's video-game industry will generate about $10 billion in sales next year, according to PricewaterhouseCoopers LLP.
Microsoft formed a $79 million joint venture with BesTV New Media Co, a unit of Shanghai Media Group Inc, in September to begin making Xbox consoles in the free trade zone for the Chinese market. BesTV invested $40.3 million for a 51 percent stake in the enterprise, while Microsoft put in $38.7 million, according a September filing.