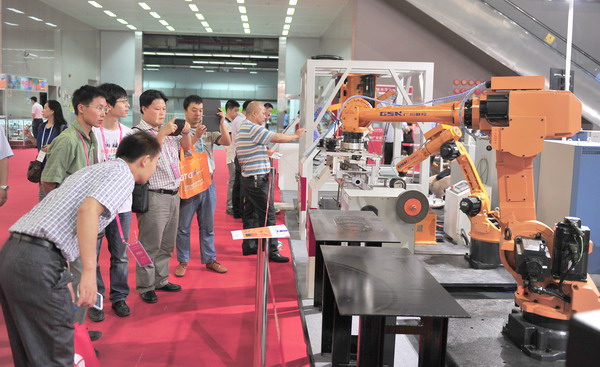 Domestically produced robots are shown at an international expo in Guangzhou, capital city of Guangdong province. China aims to have a relatively well-developed industrial robot industry by 2020,with three to five internationally competitive companies and eight to 10 supporting industrial clusters. [LU HANXIN/XINHUA]
GUANGZHOU - Industrial robots are assuming more and more prominence in China as the country's manufacturing industry is stymied by a severe worker shortage and soaring labor costs.
China bought one fifth of the world's industrial robot output in 2013, overtaking Japan as the biggest buyer of such technology, according to statistics released by the China Robot Industry Alliance (CRIA) recently.
Some 36,860 industrial robots were sold in the Chinese market last year, up 36 percent on an annual basis, according to the CRIA.
The passion for robots comes as Chinese businesses face pressure from a lack of manpower. A survey earlier this year showed a shortfall of 123,300 workers in the industrial southern Chinese heartland of Guangzhou, Guangdong province. A similar warning was issued by the Fujian provincial government. According to the province's human resources and social security bureau, it faced a shortfall of 80,000 laborers after the Spring Festival holiday, a time of high turnover among China's army of migrant laborers.
Governments at various levels in China have announced new strategies to support the production and application of robots, hoping the technology can make businesses more profitable and steer local economic development.
Last week, the government of central China's Hubei province issued a circular stipulating robotics should be developed to become a main business in the province by the end of 2020, when it is hoped it will have generated about 10 billion yuan ($1.6 billion) in revenue.
Under the wing of governmental support, the fledgling market is gaining momentum in a variety of localities.
For instance, Wuhan East Lake High-tech Development Zone of Hubei, is already home to 40 companies engaging in robotic technology, and they are trying to attract companions to build an incubator for industrial robots. If successful, it will become the first place in China where industrial robots are designed, programmed and built on a large scale.
Meanwhile, Shanghai, Chongqing, Anhui and Guangdong have all listed developing the robotics industry as priorities on their agendas, while more than 30 cities have established production bases for robots.