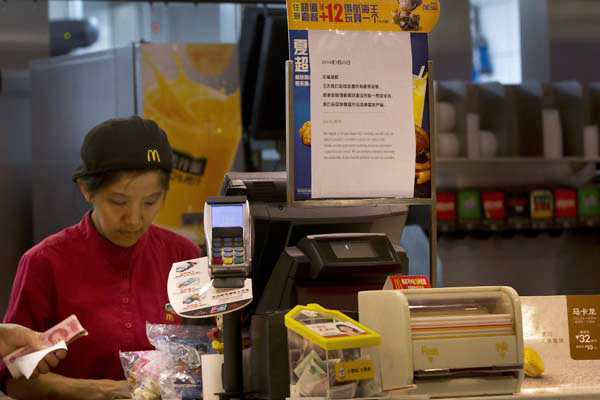 Workers count money at a counter displaying a regret notice for customers at a McDonald's restaurant in Beijing on Monday. OSI Group, the US-based company at the center of a food scandal in China, said that it was pulling all of the products produced by its Shanghai Husi unit from the marketplace. ANDY WONG/ASSOCIATED PRESS
Shares of possible replacement in Thailand get a boost on news
Amid a serious meat shortage following the recent food safety scandal involving supplier Shanghai Husi, international fast-food chains in China may still have to source locally, though their peers in Japan have shifted to Thai meat producers, an industry expert said.
Ben Cavender, a senior analyst at China Market Research Group in Shanghai, said that in the short term, eateries are trying to find replacements as quickly as possible in China and other countries.
But in the long term, they will have to source locally in order to meet demand and get orders on time, and domestic suppliers will have to prove they are up to task and win back the trust that has been lost, he said on Monday.
Restaurants will have to take more responsibility in the management of supply chains, such as spending more time at suppliers and looking at their production lines, he said. They also will have to change the way they write contracts with their suppliers by listing more penalties, Cavender said.
A local TV station broke the story that Shanghai Husi Food Co Ltd, a meat supplier owned by US-based OSI Group, had mixed fresh and expired meat. The scandal has affected global food bran
ds
, including McDonald's Corp,
KFC
-parent Yum Brands Inc and Starbucks Corp.
On Monday, no sandwiches except Filet-O-Fish were available on the McDonald's menu at most of its outlets in China after it halted supplies from Husi. A date for resuming its beef supplies is still unknown.
But for countries like Japan, which source their supplies from abroad, it makes no difference whether they change their supply countries, said Cavender.
McDonald's Holdings Co (Japan) said it planned to halt all imports of chicken products from China and shift that business to Thailand, pushing shares in Thai chicken exporter GFPT Pcl to a record high on Monday.
The move also will boost McDonald's chicken purchases from existing suppliers McKey Foods Services (Thailand) Ltd, a unit of Keystone Foods, and Cargill Thailand, according to a Reuters report.
GFPT is a major chicken exporter to Japan and owns 49 percent of McKey Foods. At 3:40 pm on Monday, GFPT shares were up 6.3 percent at record high of 15.2 baht (48 cents).
Jutamas Ingpochai, investor relations manager at GFPT, said the company is expected to receive a monthly order of 200 metric tons of cooked chicken products from McDonald's in the second half of this year.
McKey Foods now produces about 2,000 tons of cooked and processed chicken products a month, out of its full monthly capacity of 2,400 to 2,500 tons, she said.
"We still have 10 percent capacity to serve the buying order," Jutamas said, adding the company kept its sales growth target of 8 to 10 percent to 18 billion baht for this year.
GFPT also aims to invest in a range of 800 million and 1 billion baht a year to expand its farm business over the next four years as the company plans to raise capacity to 350,000 chickens by 2018 from 250,000 now, according to the Reuters report.