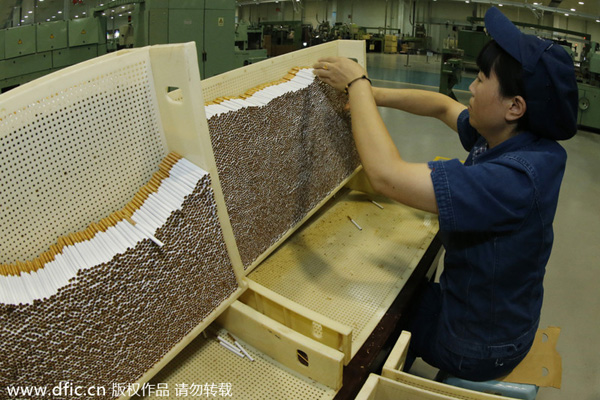 A worker controls manufactured cigarettes at an assembly line at a tobacco factory of Hubei China Tobacco Industry Co, Ltd in Hubei Enshi Economic Development Zone in Enshi city, Central China Hubei province, August 16 2013. [Photo/IC]
BEIJING - Chinese cigarette producers made more cigarettes even with fewer tobacco farms in the first half of 2014, showed data from the State Tobacco Monopoly Administration (STMA) on Monday.
In the January-June period, cigarette output rose 0.2 percent year on year to 25.94 million crates, or 1.3 trillion cigarettes, while the amount of farming land dedicated to tobacco in China fell by 170,000 hectares to 1.23 million hectares, according to the STMA.
The output could have offered every Chinese an average of 1,000 cigarettes in the first six months, underlining the challenge for smoke control efforts in China, which is home to more than 300 million smokers.
Among the obstacles impeding an anti-smoking drive is the huge revenues of the tobacco industry, which brought 579.54 billion yuan ($94 billion) in taxes for the country over the first half of 2014.
Tobacco taxes constituted about 7.8 percent of China's fiscal revenues in the first half, according to the Finance Ministry and the STMA.
Health authorities estimate that about 1.4 million Chinese die of smoking-related illnesses every year as apart from 300 million smokers, 740 million others are regularly exposed to secondhand smoke.
As the world's largest tobacco producer and consumer, China was rated low last year by the World Health Organization among more than 100 countries that have joined the WHO Framework Convention on Tobacco Control over the past five years.