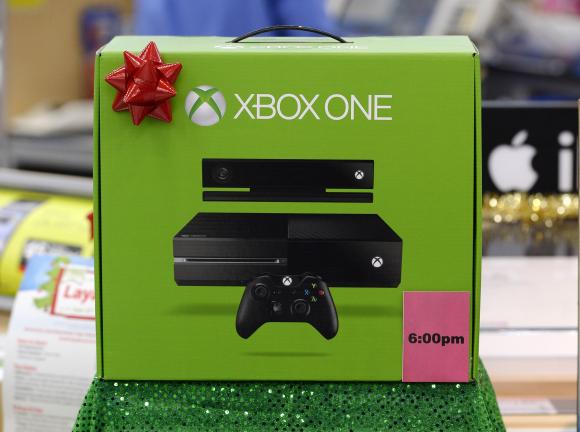 An XBox One is seen on display at the Wal-Mart Supercenter in the Porter Ranch section of Los Angeles Nov 26, 2013. [Photo/Agencies]
Company tapped as sole provider of Microsoft Corp's game console
China Telecom announced on Thursday it has been chosen as the exclusive provider of Microsoft Corp's Xbox One in China so that the game console can be combined with the telecommunication company's new product - Yue Me.
The Xbox One consoles will be available in September from China Telecom at its physical stores and online.
The cooperation between China Telecom and Xbox One aims to transform traditional television and online gaming by providing entertainment that combines TV family entertainment, video, games and education, the telecommunications company said.
Tao Ming, president and CEO of BesTV New Media Co Ltd, which set up a joint venture in the China (Shanghai) Pilot Free Trade Zone with Microsoft in September last year, said they will work on the upgrading, research and development of Xbox One to "make it a necessity for mid- and high-level family broadband users and a mainstream product popular among all the households."
BesTV signed agreements with Microsoft in late April to become its exclusive partner for Xbox One game consoles. Xbox One was released by Microsoft in November last year and upgraded in March.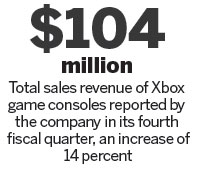 The attitude toward the Xbox One operated by China Telecom differs among potential users. Guo Yingbin, 39, a sales manager of a Shanghai-based trading company said he is very much looking forward to having fun with the game console and might buy one for his family if the price is reasonable.
However, Dong Xinwei, 28, a programmer at a Shanghai information technology company, said he would not think of buying one because he already has a Sony PS4, which he thinks is much better than Xbox One.
"Of course, I would buy a games console so that I can play all kinds of games, but, at present, most of the games on Xbox are developed by overseas companies," said Dong. "I am not sure what China Telecom can provide."
"As to the video on demand services, I have already got several other digital media players at home that can meet all my needs," he added.
Xbox One has performed well in the past few months. After a pricing adjustment in May, the sales of the game console doubled in June, according to Microsoft.
A total of 1.1 million Xbox game consoles, both Xbox One and Xbox 360, were sold in the company's fourth fiscal quarter, with the total sales revenue up 14 percent to reach $104 million.