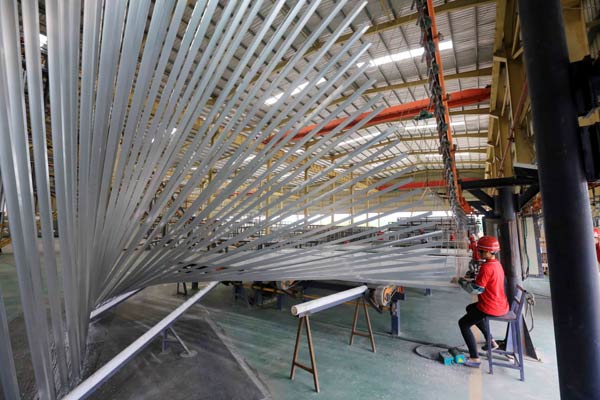 Workers check aluminum products at a factory in Baise, the Guangxi Zhuang autonomous region. The flash PMI reading for July, issued by HSBC Holdings Plc on Thursday, rose to 52 from the final June reading of 50.7. Tan Kaixing / For China Daily
Measure of activity hits 18-month high, exceeding market expectations
A Chinese manufacturing activity gauge beat expectations in July, hitting an 18-month high as easier monetary and fiscal policies kicked in.
The preliminary reading of the Purchasing Managers Index, jointly released by HSBC Holdings Plc and Markit Ltd on Thursday, rose to 52 from the final June reading of 50.7, beating a market consensus of 51.
It was the highest reading since January 2013, and it was also above the 50-point level that separates growth from contraction for the second consecutive month.
"Economic activity continued to improve in July, suggesting that the cumulative impact of mini-stimulus measures introduced earlier is still filtering through," said Qu Hongbin, chief economist for China at HSBC.
"We expect policymakers to maintain their accommodative stance over the next few months to consolidate the recovery."
A sub-index measuring new orders, which provides a reading of domestic and foreign demand, also reached an 18-month high of 53.7, while the sub-index for output rose to a 16-month high.
Analysts said the continued recovery represents a response to a raft of stimulus measures taken since May that include reducing the amount of cash that some banks must keep at the central bank as reserves, instructing regional governments to accelerate spending and hastening the construction of railways and public housing.
The effect has been evident since June, when industrial output, fixed-asset investment and the PMI all posted upturns. Those improvement helped accelerate China's GDP growth to 7.5 percent in the second quarter, after a weak first quarter.
Alaistair Chan, a Sydney-based economist with Moody's Analytics Inc, described the latest uptick as a "credit-fueled recovery". Total social financing swelled to 1.97 trillion yuan ($317 billion) in June, the highest level for that month since the lending spree of 2009.
The State Council pledged on Wednesday to curb skyrocketing borrowing costs for micro-sized and small businesses, and said more loans should go to these enterprises as well as the service industry, agriculture and projects that safeguard the environment and improve living standards.
China has also expedited fiscal spending in recent months, with most of the money going into infrastructure. Appropriations for railway investment have been raised three times this year and now stand at 800 billion yuan. Sixty-four rail projects are on a fast track to approval, probably by late August.
The central bank also provided 1 trillion yuan in re-lending facilities to China Development Bank for its subsidized housing financing unit.
"With the effects of government measures gradually filtering through, and more positive factors emerging, we expect the industrial sector to maintain steady growth in the second half and the growth momentum to strengthen further," Zheng Lixin, a spokesman for the Ministry of Industry and Information Technology, told a news conference on Thursday.
The improving industrial sector was reflected in iron ore price. After falling to a two-year low in mid-June, the iron ore price index tracked by Bloomberg has risen more than 10 percent as of July 14.