Debt products from local government financing vehicles are darlings on the market, reports Zheng Yangpeng
Li Jia, a fund manager with ICBC Credit Suisse Asset Management Co Ltd, has not had much time to talk to the media lately. The first-half bull market for bonds had her tied up in one meeting after another, discussing market strategies.
Among various investment options, she saids he feels that chengtou (urban infrastructure-related investment) notes are a safe bet. Her belief is widely shared in the investment community.
Chengtou notes are debt products issued by China's local government financing vehicles, of which there are believed to be more than 10,000.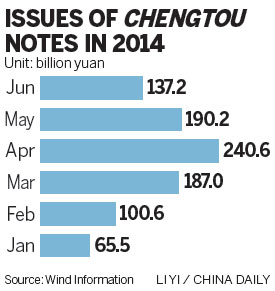 These vehicles were created to fund urban construction projects, since municipal governments are barred from deficit financing under the current Budget Law. The explosive growth of LGFVs, which in the past few years have built numerous "new cities" across the country, propelled the extraordinary surge in China's debt in the aftermath of the 2008 global financial crisis.
"Chengtou won't default in the near term," Li said. But when asked about the longer term, she responded: "It's not clear. But we don't care. Nowadays, we're just looking at short-term holdings. Few hold these notes for the long term."
The market's fondness for chengtou debt prompted a surge in issues during the second quarter to a record 568 billion yuan ($91.6 billion), the highest since 2002, according to Shanghai-based Wind Information Co Ltd.
Issues totaled 353.1 billion yuan in the first quarter of the year.
The increasing popularity of chengtou notes, which are considered corporate notes, helped push down issuers' costs. Yields on two-year AAA-rated notes have dropped 137 basis points this year to nearly a 10-month low of 4.86 percent, according to Bloomberg.
Commercial banks have been quick to jump on the bandwagon, snapping up a majority of the high-rated bonds. One AAA-rated note drew bids for almost six times the amount offered, and even an AA-rated note attracted bids for three times the offered amount, Li said.
Several factors are contributing to the buoyant market, analysts said.