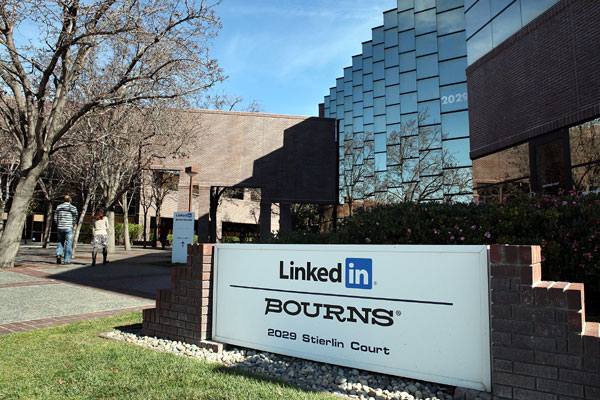 LinkedIn headquarters in Mountain View, California. JUSTIN SULLIVAN/GETTY IMAGES 
After launching a Chinese-language website in February, the Chinese branch of the world's largest professional networking company LinkedIn Corp is set to strengthen its cooperation with reigning mobile messaging application WeChat.
Derek Shen, president of LinkedIn China, said on Thursday that the professional networking site with more than 300 million members globally expects to roll out a service that can tie LinkedIn users' accounts to the ones they have on WeChat.
Shen, who joined the United States-based LinkedIn in January to assist the Internet giant in tapping China's professional networking market, declined to give a detailed description of the cooperation.
But he said his
Beijing
-based team is considering the possibility of allowing WeChat's more than 500 million users in China to log onto LinkedIn through their WeChat accounts or even communicate with LinkedIn users on WeChat rather than the traditional way of sending messages to users' registered email addresses.
"People have two identities. One is about their personal life; the other is about their professional life. WeChat has done a great job of enriching people's private lives. But the cooperation with LinkedIn can help its users build their professional identities," he said.
LinkedIn has made China one of its top priorities by creating a joint venture with Sequoia China and China Broadband Capital in January in an attempt to connect with more than 140 million Chinese professionals.
Compared with January, the number of LinkedIn's daily new users jumped 80 percent in July. The company reported that its Chinese users exceeded 5 million by the end of May.
Nearly 1 million of them use LinkedIn's Chinese language website, which was launched at the end of February.
Shen said he was satisfied with LinkedIn China's track record in its first six months in China and is hoping to boost Chinese user numbers to 10 million by early next year.
The push will not be through advertisements, however; rather, LinkedIn is planning to launch creative campaigns, including holding offline seminars jointly with top universities or MBA programs, to attract the attention of high-quality talent in China's biggest cities.